Going the distance with your precious cargo
Move across the country with confidence
Your piece of cake move starts with a
free quote
Fill out the form below for a quick flat price quote
We focus on the journey, so you can enjoy the destination
We focus on the journey, so you can enjoy the destination
If you are moving to a new state you will want all of your treasured and worldly possessions to arrive safely with you.
We have moved thousands of customers from coast to coast across America – and countless cities in between.
As a fully insured, state and federal compliant mover with a strong safety record, your long distance move with Piece of Cake will be a hassle free experience.
Cross country moving options that deliver on time and on budget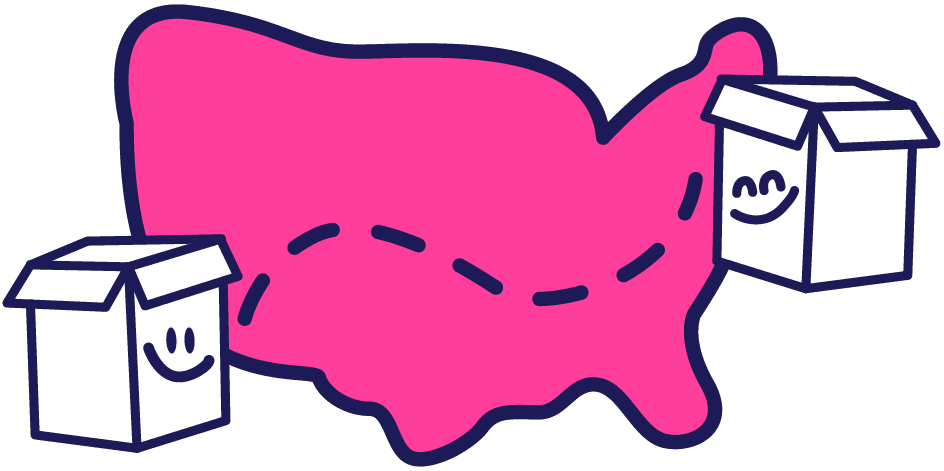 We offer two cross country long distance moving options to meet your budget and timeframes – consolidated shipping and exclusive express long distance moving.
Get in touch with our team to discuss the best option for you.
Call us at 212 651 7273 or fill this form to get a free moving quote with a guaranteed flat price.
1. Consolidated Shipping
If time is on your side and budget is tight, Consolidated Shipment is the cost-efficient option. Each truck is shared between a few clients, where your items are securely and correctly labeled and tracked. Shipment must be available for the delivery window. This provides all the benefits of shipping your possessions to your next location, at a lower price point.
2. Exclusive Express Long Distance Moving
If you have a tight timeframe and want full control of your drop off dates, our Exclusive Express Long Distance Moving Service is the ideal option for you. We use the entire truck trailer exclusively for your shipment. You can choose your desired pick up and drop off dates, with direct delivery.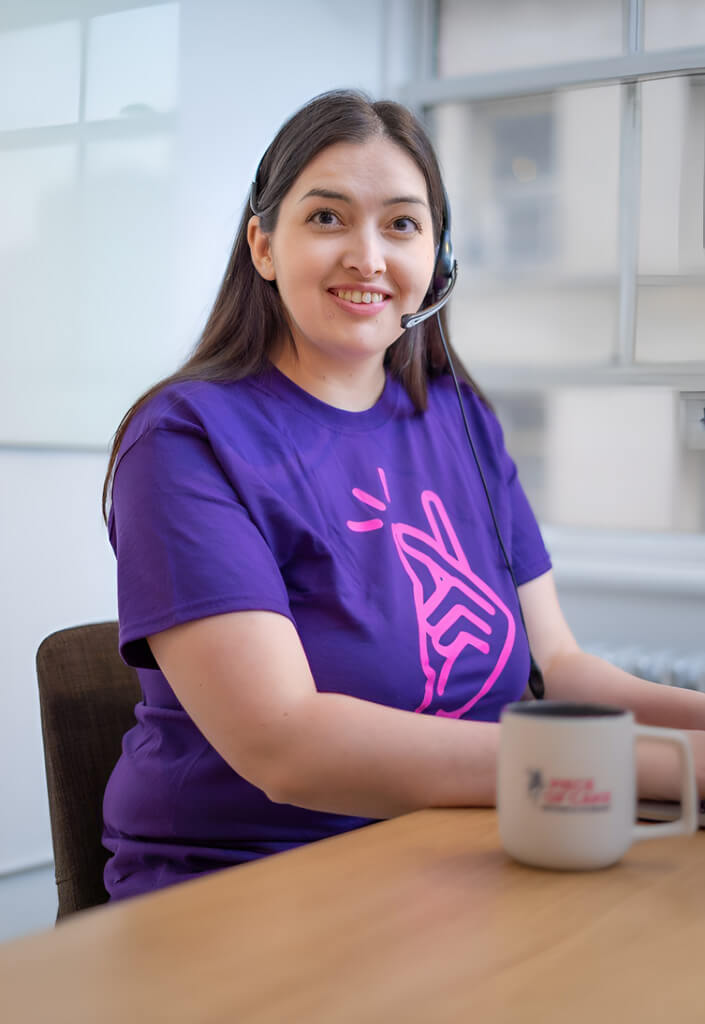 Communication at every step of your long distance move
From our initial consultation to the last box we place in your new home, we are always just a phone call away.
With the fastest customer service response times in the moving industry, you can always reach us to discuss your long distance move.
This is how we give you more support and options to make your long distance move a hassle free experience;
Our moving consultants are experienced in putting together a comprehensive long distance moving plan bespoke to your needs.

Our forward planning and comprehensive communication pre, during and post your move will provide you with confidence that we are on top of details specific to your unique relocation.

Our Flat Price guarantee also means that there are no hidden costs or surprises during your move.

We're proud to have one of the safest and best maintained truck fleets in the USA, that is enhanced with GPS tracking.

Fully insured state and federal moving company with a track record of safety.
From
NYC to anywhere

in the USA we will move you

Miami, San Francisco, Chicago, Los Angeles, California, Florida, Texas – all 50 states we can move you there!
Alabama
Alaska
Arkansas
Colorado
Hawaii
Idaho
Illinois
Indiana
Iowa
Kansas
Kentucky
Louisiana
Michigan
Minnesota
Mississippi
Missouri
Montana
Nebraska
Nevada
New Mexico
North Dakota
Ohio
Oklahoma
South Dakota
Tennessee
Utah
Vermont
West Virginia
Wisconsin
Wyoming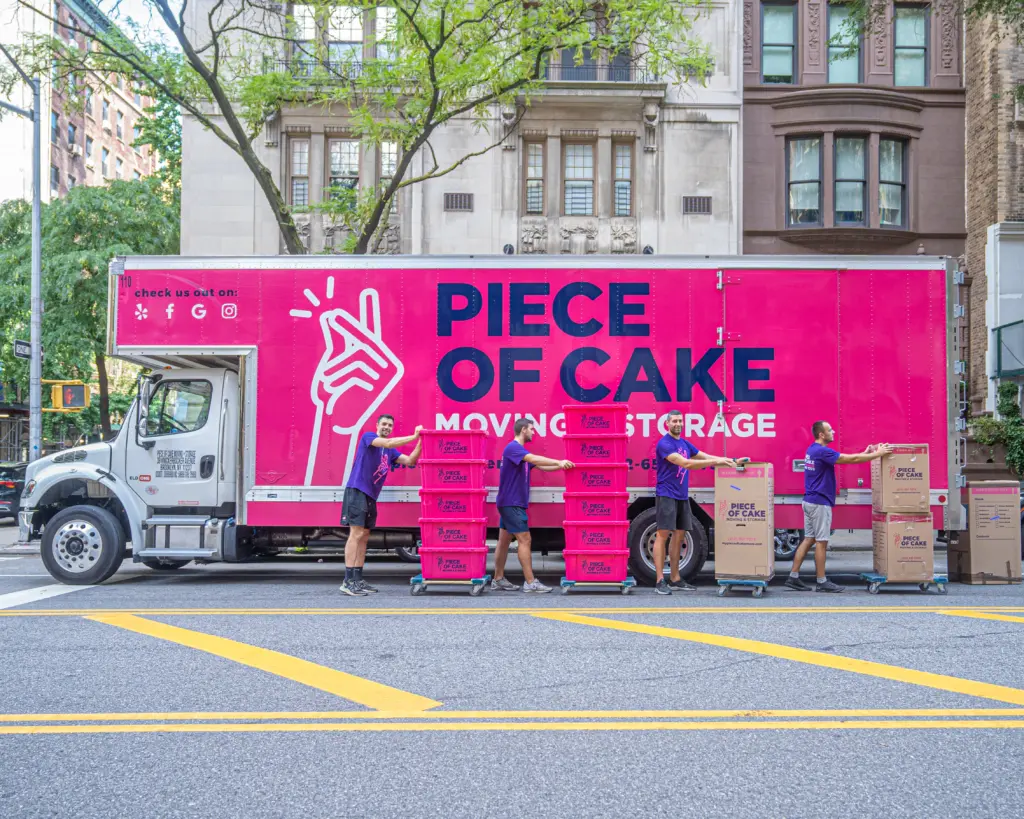 Our flat price means no hidden surprises, ever.
We offer a guaranteed, all-inclusive flat fee, locked in before your move day. Which means the duration of your move will not impact your move price. We always include the following services at no extra charge to you.
We include all of the following services at no extra charge to you.
Put your feet up with our
complete packing

experience
We can pack your whole home, a few boxes or your most valuable items. Our packing methods and the high-quality packing materials we use are matched specifically to each of your items.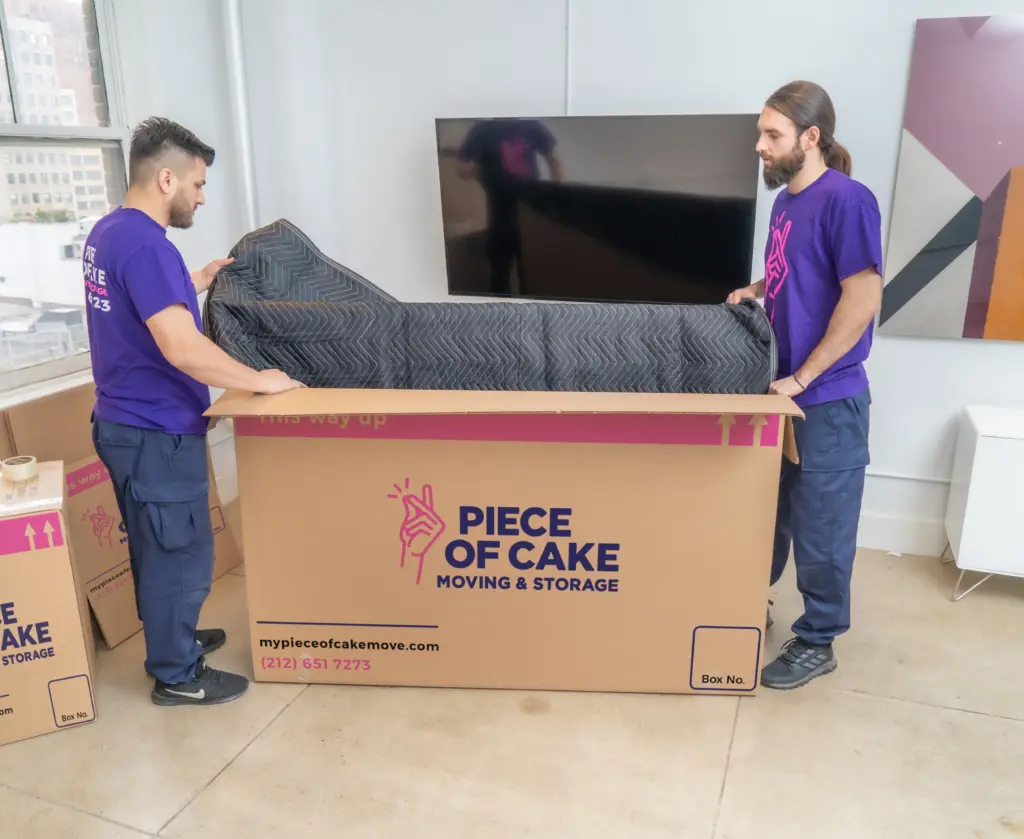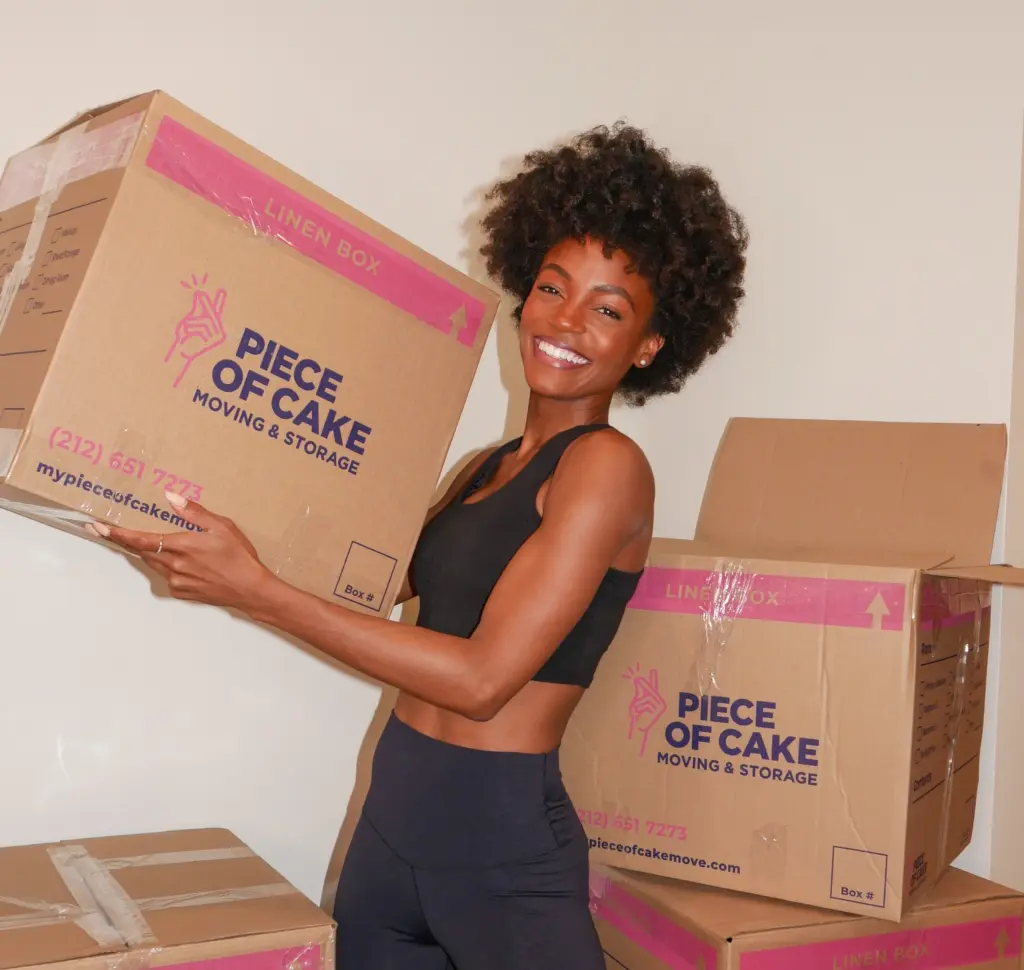 Make space with our flexible short and long term storage
We will pick up your items from your doorstep and deliver them to our secure NYC storage facility, where they will be safely stored for as little or as long as you like. Just let us know when you need your items back and we will drop them off at a time that suits you.

"New York Knicks
Official Sponsor"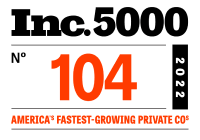 "USA #1 Mover"
"Voted NYC
Best Mover"

"The Mover
Who Cares" "Expert
NYC Movers"
Piece of Cake Movers moved me from the Financial District to the Hudson Valley in June 2022. It was absolutely flawless. The two men that worked the moved were polite, careful, efficient and knowledgeable. Not a scratch on anything including the brand new apartment I moved into. They were focused and diligent. In Manhattan the logistics are more complicated yet Piece of Cake rose to the occasion in every way. What's more, the moving fee was very reasonable and there were no hidden charges, no surprises.
Just did my move from NYC to CT with Piece of Cake and had a fantastic experience. The process was smooth, courteous, and fast. Very friendly movers (Jozo and team) who worked hard and efficiently. They packed everything, dismantled only what was absolutely necessary and set it all up at the drop off location. I was thrilled having them as my movers and will definitely use them again in the future. Conclusion: If you have to move, congratulations, you found your crew. Book these guys and you will be happy.
I hired Piece of Cake to move from New Jersey to Manhattan. They had great customer service throughout, and the movers themselves were conscientious and professional even when my furniture didn't fit into my apartment and they had to bring it back to the original pickup location. Reasonable prices and great value, I highly recommend them!
Excellent service!! Our team packed up quickly and efficiently. They were also very nice and respectful. We moved from NY to NC and the movers met us the next morning to unload all of our belongings. I thought everything was fairly priced true to the quote. I did not get any last minute charges. Nothing broke during the move. The team was very good! Piece of cake made everything very easy from booking through the actual move. I would highly recommend using this company!!
I had a great experience with piece of Cake Moving & Storage. Their prices were the most affordable. Heidi was so helpful and very friendly. The movers were not only on time but a little early. They were very quick and wrapped everything very well. They moved us from Brooklyn,ny to NJ. I would highly recommend using them for your move.
I've moved 4 times within the last 6 years and PoC moving was the best movers I've ever used. While they are a little pricey, they were very worth it for the longer distance I was moving. They facetimed me to get an accurate quote and were very responsive. I filled out all the information and when the movers came, they disassembled and reassembled my bed, dresser and couch.They wrapped everything so nicely. This seamless experience made my move so much easier and I would highly recommend them.
If I could leave six stars for PoC, I would. Moving isn't easy, especially when you've got multiple stops to make and state lines to cross. But I can't speak highly enough of Heidi who scheduled the move; she was so responsive, flexible, and kind. And Deni and Noble, who did the move, worked for nearly 16 hours (on the eve of Deni's birthday no less) with care, thoughtfulness and humor. I've worked with several moving companies before, and never experienced anything that compared. These folks really are the best.
I've moved countless times in my life, and I've never had such a painless experience with movers. They were so organized ahead of time, double and triple checking the inventory. There were no price surprises on move day. And the move was surprisingly reasonable for a move from NYC to Baltimore. Would absolutely recommend!
I used Piece of Cake to move from FL to CT and it was the best decision I've made! They were very responsive and able to accommodate a few things I had to change last minute! They were super early, all the staff was helpful, nice, communicative, very efficient and careful with all our belongings. We are extremely happy with their service and would recommend Piece of Cake to everyone! Thank you for making our move smooth and easy!
We did our recent long distance move from NYC to TN and Piece of Cake was an excellent choice for our move. The only damage that occurred was a scratch on one our dining chairs. We were SO happy that our treasured items, exercise bike and furniture arrived in beautiful condition with NO dishes, cups, glasses, pictures or decor items broken or damaged. We would HIGHLY recommend Piece of Cake moving for your moving needs!
Leaving my childhood home in New York City to move to Miami was not easy. Neither was finding a mover. After interviewing four others, the choice was quite simple after speaking to Piece Of Cake. Professional, compassionate, affordable and accommodating are just a few of the accolades I could assign them! Everything was delivered to my new home a few days ago by an expert crew that even helped assemble larger items. It truly doesn't get better than this! Milo and his team deserve nothing but my heartfelt thanks!
My partner and I were moving from NYC to Boston and after reading great reviews and having great communication with Piece of Cake, we wanted to give them out business. Throughout the process they were easy to work with, communicative and reliable. The moving team arrived within our window and worked really hard to get us out and into our apartments. If you're looking for a short move or long distance move, Piece of Cake is your moving Company!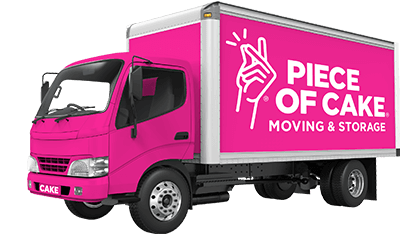 Just what you were looking for?
MAKE YOUR MOVE!