Moving NYC Startups & Fortune 500 companies
Minimize business downtime with NYC's #1 office mover
Your piece of cake move starts with a
free quote
Fill out the form below for a quick flat price quote
Fully Insured office and commercial moving services
We are not just a residential moving company, we're also expert commercial office movers.
Whether you are moving a small start-up office out of a co-working space or a large corporate headquarters with a hundred desks downtown, we will move your business quickly and safely. Relocate your business with the confidence that your critical business items are in the hands of NYC's highest rated moving company.
Trusted to move NYC business for our reliability and care
We are fully insured and hold all the appropriate Federal and State moving accreditations

We will take care of your Certificate Of Insurance requirements, which is covered under your flat moving fee.

We have one of the best maintained and safest truck fleets on the East Coast, equipped with GPS tracking for the security of your items.

We are the only insured 24/7/365 moving company in New York, which means we can move your office overnight, on the weekend or during holidays.

We are experienced in dealing with NYC specific moving considerations – traffic changes, parking restrictions, weather, tricky building entries, tight walk ups and elevator booking restrictions
A custom Office Relocation Plan that meets your requirements
Our team will put together your bespoke comprehensive Business Relocation Plan, which includes a business relocation checklist, confirms your new floor plan in detail, provides office packing tips and sets out clear steps on what to expect pre and during the move.
We will also come to your office for an on site consultation with the key contact who is managing your relocation project, so they are fully equipped with relevant information to be able to gain approval internally and prepare your team. We handle every aspect of your office move.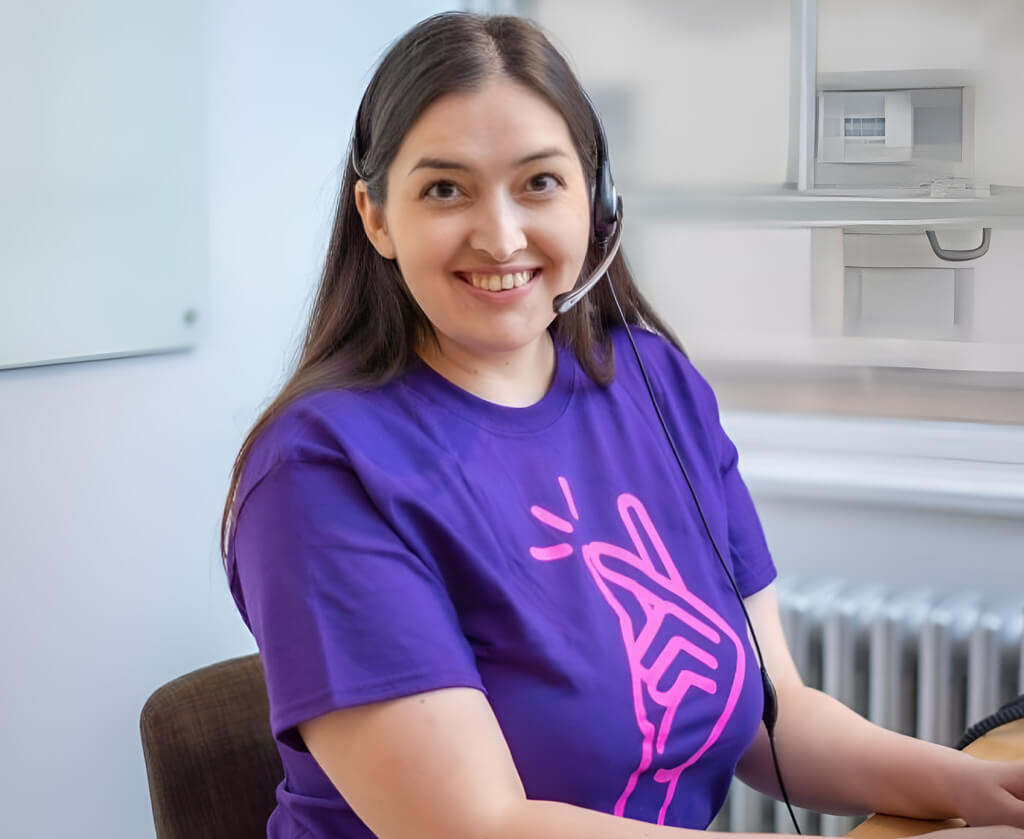 Common items we pack for you and relocate in an office move include:
Screens, speakers, printers and other devices
Workstations, chairs, boardroom tables and other furniture
Employee belongings numbered and grouped according to zone
Storage shelving and cupboards
Signage and logos
Portable lighting
Kitchen supplies including plates and cutlery
Stationary supplies and other office items
Hard copies of important or historic documents and reports
Oversized equipment needing special handling
Safely moving your business critical technology
Every business is now a technology business. Your phones, desktop monitors, hard drives, computer equipment, TV screens, server racks, digital conference smart whiteboards and any electronic pieces of equipment unique to your service offering, are all critical to your operation.
We are experienced in safely packing and handling fragile and important business technology items. Piece of Cake movers use dedicated packing wraps and boxes for these items to make sure they are transported in one piece to your new office. We also work with a trusted technology partner who can help you set up your technology in your new office.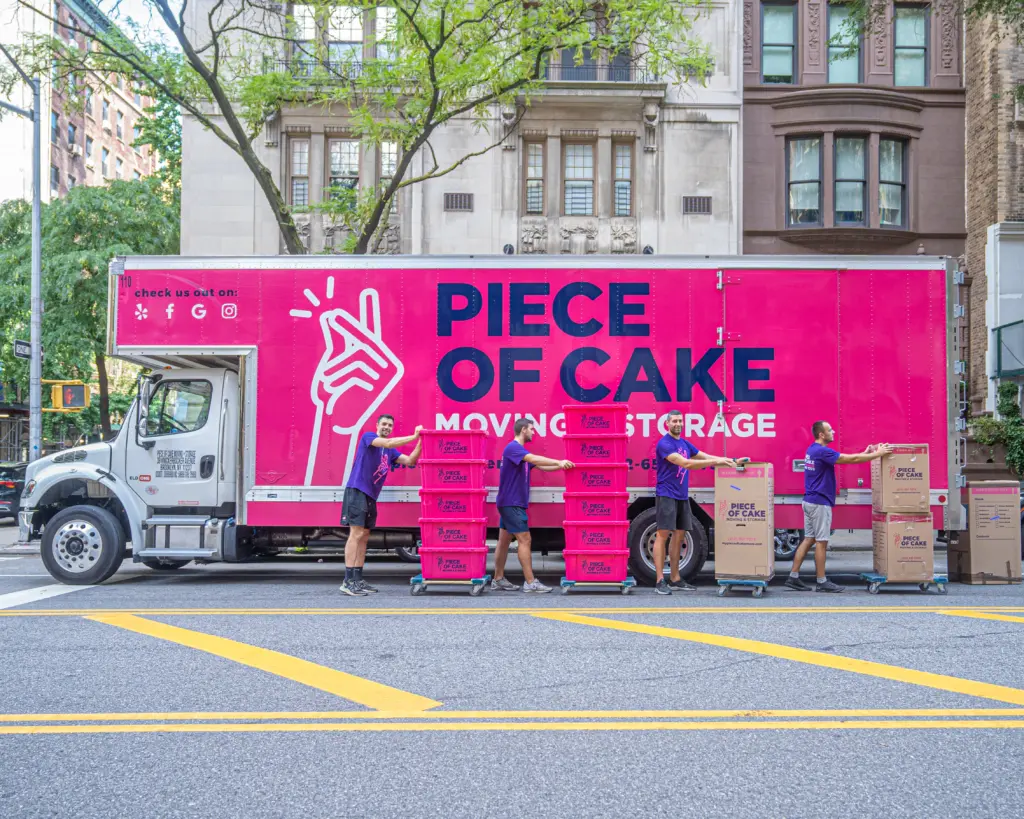 Our flat price means no hidden surprises, ever.
We offer a guaranteed, all-inclusive flat fee, locked in before your move day. Which means the duration of your move will not impact your move price. We always include the following services at no extra charge to you.
We include all of the following services at no extra charge to you.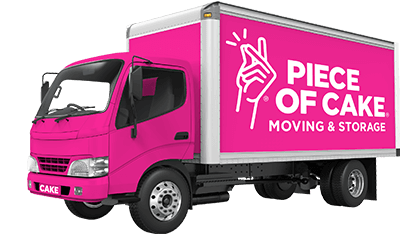 Just what you were looking for?
MAKE YOUR MOVE!
Put your feet up with our
complete packing

experience
We can pack your whole home, a few boxes or your most valuable items. Our packing methods and the high-quality packing materials we use are matched specifically to each of your items.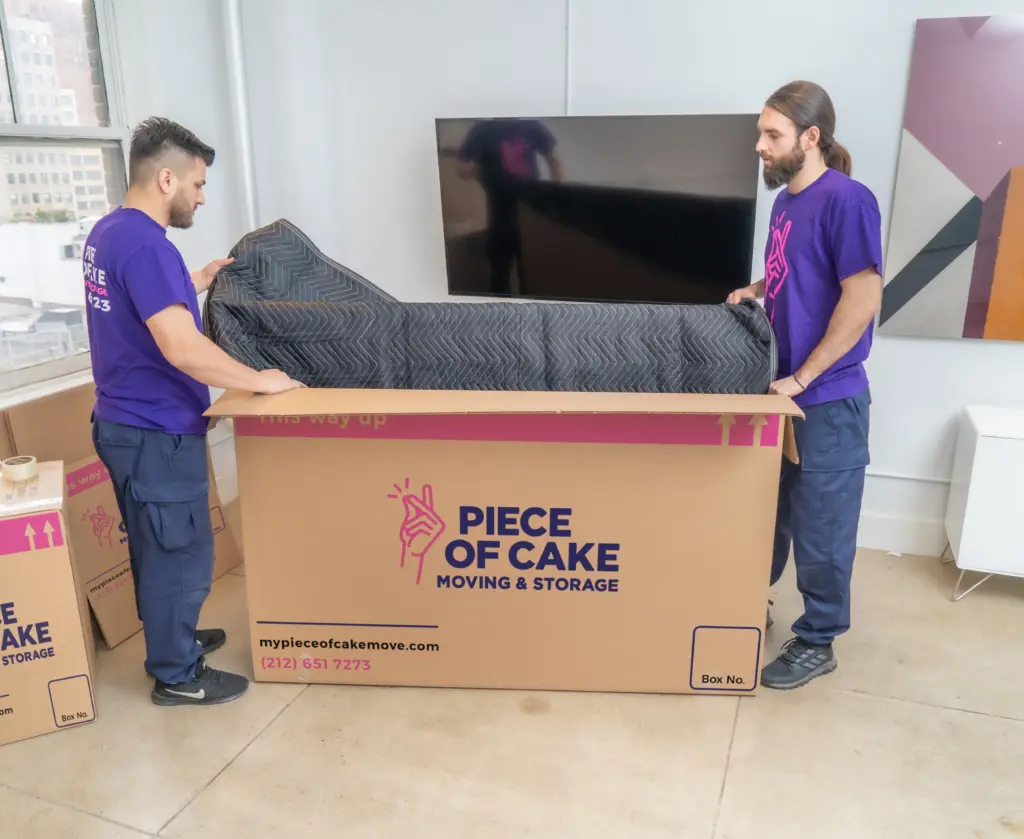 "New York Knicks
Official Sponsor"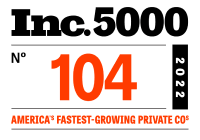 "USA #1 Mover"
"Voted NYC
Best Mover"

"The Mover
Who Cares" "Expert
NYC Movers"
Imagine the best case scenario for your moving process. That's what it is like to work with Piece of Cake Moving! It was quick, great price, and great customer service!
LOVE them, so friendly and efficient, would definitely use them again.
Incredibly nice team, very hardworking, and high quality work! At a reasonable price. Would strongly recommend their services to any friends!
Working with Piece of Cake was one of the best decisions we made in our recent move. Leading up the the move, communication with the HQ team was seamless. We could not believe how well they engineered the move. They were polite and very courteous, efficient, and incredibly hard working. Don't waste your time, just book with them.
If I could give 10 stars I would. I had so much anxiety about moving and this team made my move a smooth and painless process. They were friendly, efficient and so professional. Not looking to move again anytime soon but if I do POC moving is a no brainer. Will be recommending them to all friends and family.
I got quotes from a few companies and PoC was definitely the most responsive in terms of answering all my questions, willing to work with building limitations, and stayed in contact throughout the moving process. The movers were personable, efficient, and got the job done in a few hours. Overall great experience and would definitely recommend Piece of Cake to anyone I know.
The experience we had with Piece of Cake Moving was so great that we will never move in NYC without them! The movers were quick, efficient and went above and beyond our expectations. They arrived on time and got to work right away! We were blown away with how fast we were moved out and moved in!
Extremely happy we went with Piece of Cake for our move. The team was very fast moving, documents prepared quickly, responses very timely. The move was a piece of cake
One of the best moving companies I've ever used! Team of 3 arrived on time and got on with work immediately. They were polite, friendly and extremely efficientThey also had a lot of patience as our elevator booking was delayed and didn't complain at all. I couldn't recommend their services enough!
Was very easy to call and set up a move. The price was good to. I had some mix-ups and needed to add items and even change the date, but they were able to easily accommodate. Day of the move the crew was super nice and professional. They quickly packed up the entire apartment with ease, I didn't really lift a finger. They made what is usually a stressful day pretty easy.
They were awesome! They take everything apart and then re assemble for you.They wrap up your tvs and glass shit professionally. They take the legs off your couch so it fits through doors. Everything's wrapped until it's inside so it doesn't ruin the paint on your walls if they rub against them.Not even a wine glass was chipped.
They came at zero hour after the moving company I initially hired and paid a deposit to canceled. I was freaking out about my move not happening at all but they did get this done and my stuff arrived more or less intact and accounted for. They handled changes and snafus gracefully and earned their money. Hopefully I won't be moving again for a long time but if I get forced into that again, I'll remember this experience.