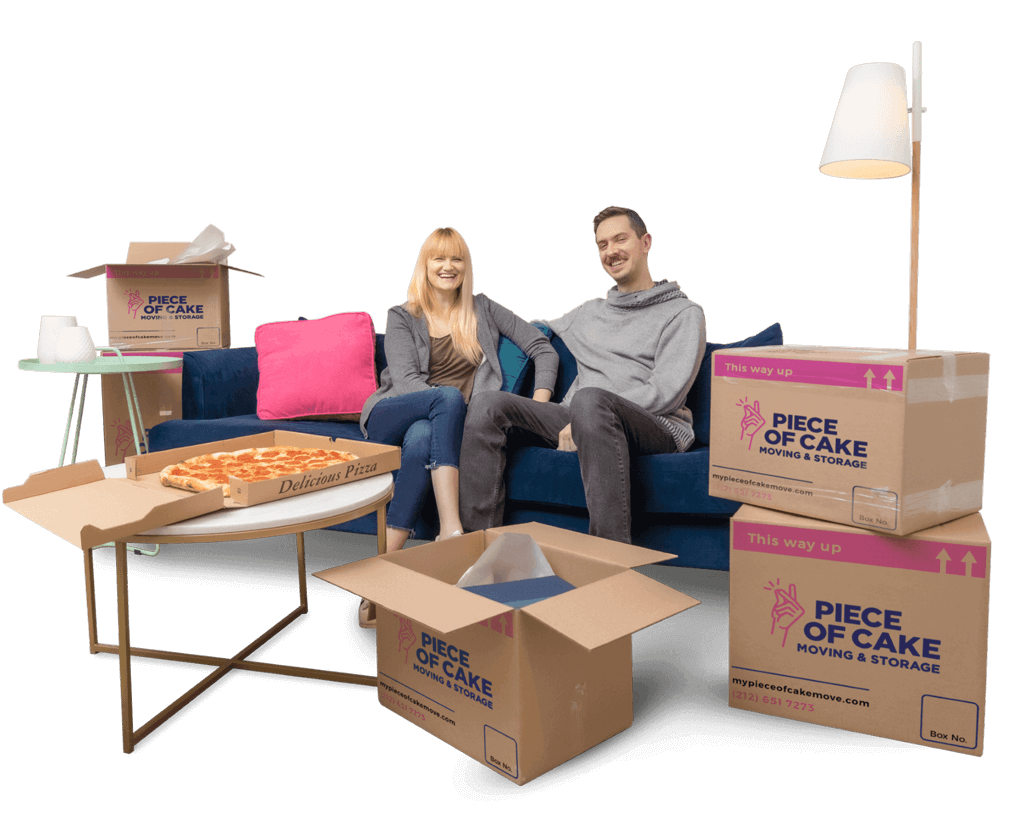 The best movers
in NYC with the
best reviews.
Affordable moving & storage services.
Guaranteed all-inclusive quote within minutes.
Your piece of cake move starts with a
free quote within minutes
Fill out the form below for a quick guaranteed flat price quote
Top rated NYC movers across ALL review sites

"New York Knicks
Official Sponsor"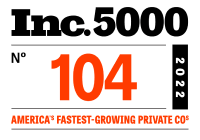 "USA #1 Mover"
"Voted NYC
Best Mover"

"The Mover
Who Cares" "Expert
NYC Movers"
Keep moving forward with our
complete moving services
Whatever you need to move from point A to B, we will get it there safely.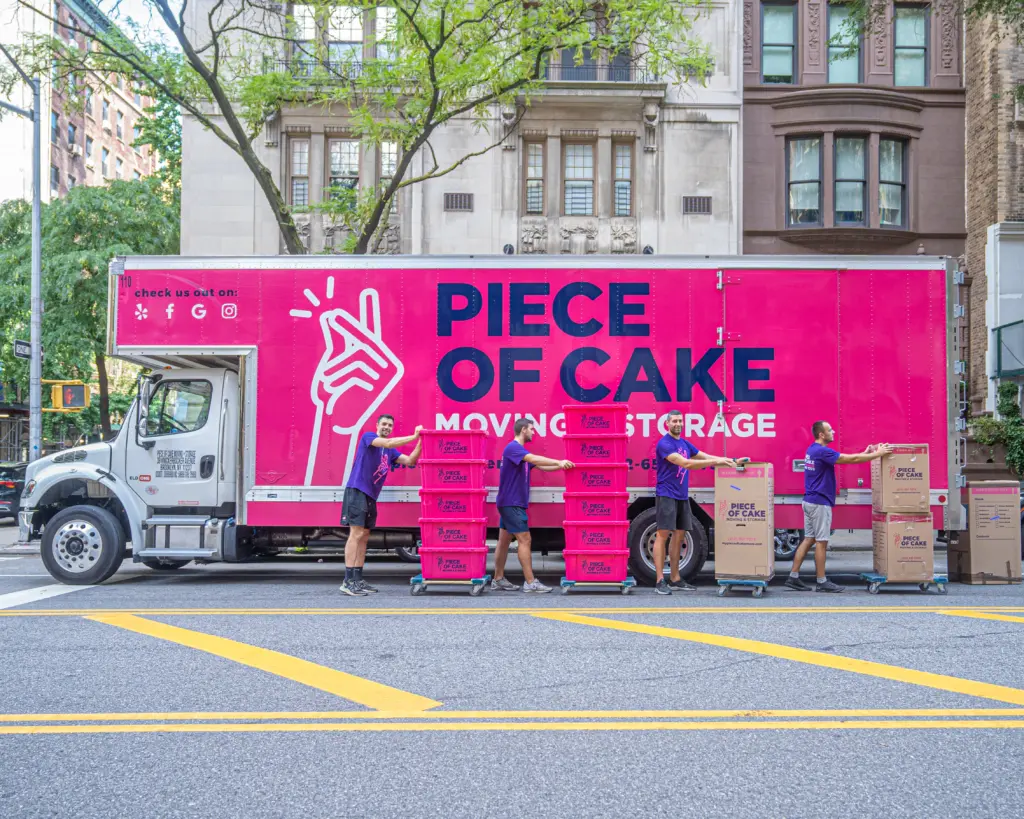 Our flat price means no hidden surprises, ever.
We offer a guaranteed, all-inclusive flat fee, locked in before your move day. Which means the duration of your move will not impact your move price. We always include the following services at no extra charge to you.
We include all of the following services at no extra charge to you.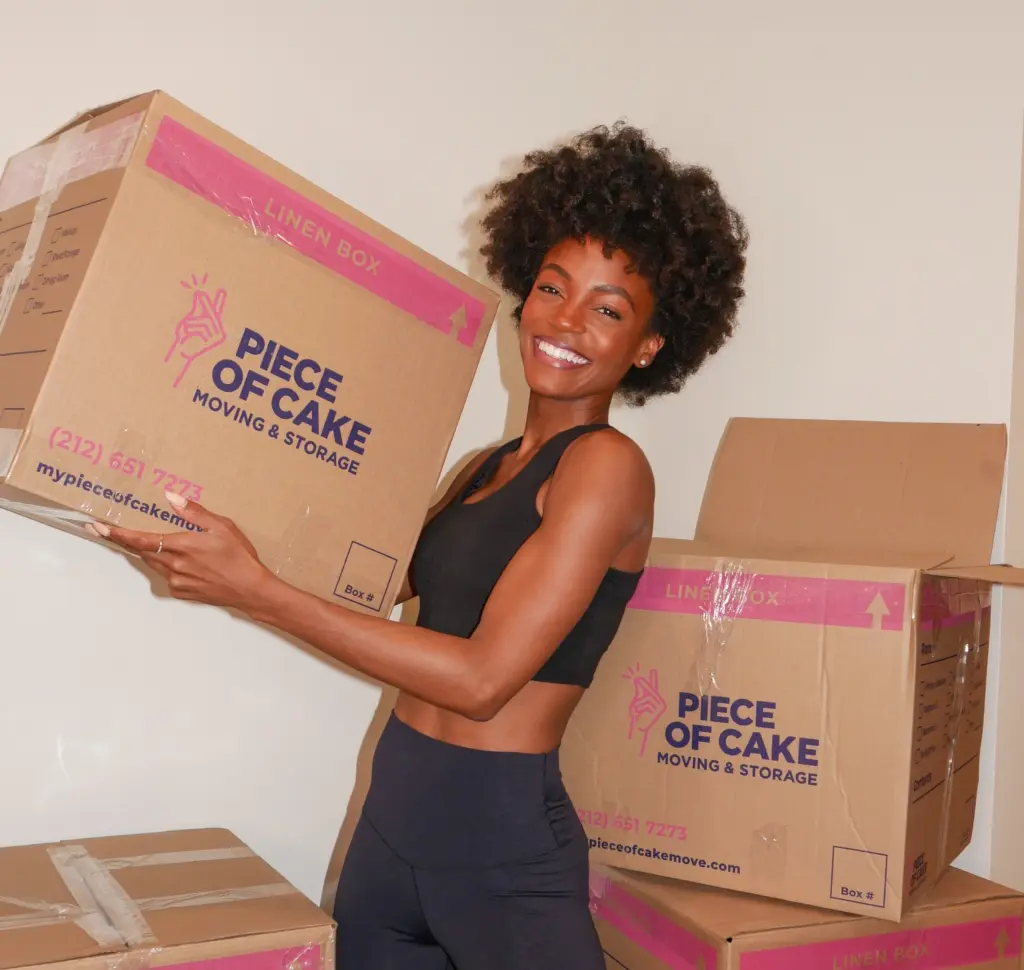 Make space with our flexible short and long term storage
We will pick up your items from your doorstep and deliver them to our secure NYC storage facility, where they will be safely stored for as little or as long as you like. Just let us know when you need your items back and we will drop them off at a time that suits you.
Put your feet up with our
complete packing

experience
We can pack your whole home, a few boxes or your most valuable items. Our packing methods and the high-quality packing materials we use are matched specifically to each of your items.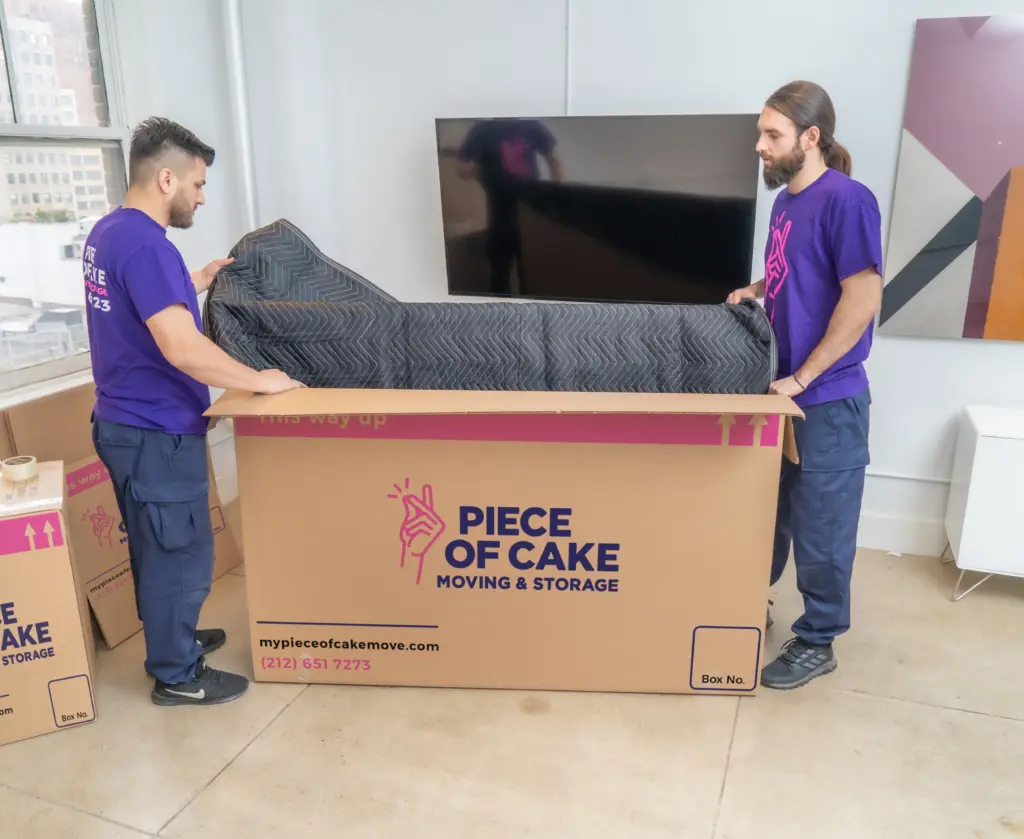 YOUR MOVE
MATTERS
YOUR MOVE
MATTERS
$3 of every move is donated to the Piece of Cake Foundation. The Piece of Cake Foundation supports disadvantaged children, women, and families across the USA.
The Official Moving & Storage Partner of the
New York Knicks
Piece of Cake's partnership with the Knicks marries two of New York's icons as we both move this city. Follow our Move Like A New Yorker NY Knicks partnership on social for NY Knicks ticket sweepstakes and our exciting on court contents at Madison Square Garden.
Everyone loves cake. Check out what our customer's are saying about our unmatched moving service.
From start to finish my move was a great experience. I immediately got a quote. The scheduling was easy, and they provided me with information regarding insurance coverage (and took care of the paperwork my building provided). The move itself went like clockwork. The movers arrived on time and texted me when they were on their way with an ETA to the delivery site. They moved everything up the 3 flights of stairs into my apartment quickly and safely. A great company that provides great service at very reasonable rates.
Piece of Cake Movers moved me from the Financial District to the Hudson Valley in June 2022. It was absolutely flawless. The two men that worked the moved were polite, careful, efficient and knowledgeable. Not a scratch on anything including the brand new apartment I moved into. They were focused and diligent. In Manhattan the logistics are more complicated yet Piece of Cake rose to the occasion in every way. What's more, the moving fee was very reasonable and there were no hidden charges, no surprises.
Great move with POC movers! I rented their pink bins which was an excellent choice, they provide plenty of packing paper, zip ties, and tags. My team arrived right at the start of their arrival window and quickly and safely packed all my bins and furniture into their truck. The team just as efficiently unloaded everything, leaving the bins in the labeled rooms and re assembling my bed frame. I definitely recommend renting their bins. I would definitely use Piece of Cake movers again and recommend them to a friend.
Easiest moving experience ever. I had packed all my boxes myself, and the two guys came and loaded everything in 45 or so minutes. They wrapped my paintings and all of my fragile items and desk that I forgot to include in my inventory. The guys were very efficient, polite, and professional. They drove my belongings from NYC to Maryland and unpacked everything, and my parents had only good things to say of their experience with them as well. I will recommend Piece of Cake moving to friends & family!
Excellent service!! Our team packed up quickly and efficiently. They were also very nice and respectful. We moved from NY to NC and the movers met us the next morning to unload all of our belongings. I thought everything was fairly priced true to the quote. I did not get any last minute charges. Nothing broke during the move. The team was very good! Piece of cake made everything very easy from booking through the actual move. I would highly recommend using this company!!
I've moved countless times in my life, and I've never had such a painless experience with movers. They were so organized ahead of time, double and triple checking the inventory. There were no price surprises on move day. And the move was surprisingly reasonable for a move from NYC to Baltimore. Would absolutely recommend!
Thrilled that I chose PoC. From initial contact, to the final thank you's, to the muscles - the whole moving experience was a "piece of cake"!! The muscle men were friendly, courteous, efficient and careful with our belongings. Definitely well-tuned movers. All communications were timely and clearly understood. Kept me in the loop for the short delay in arrival time. Felt the cost of the service was more than fair for the exceptional quality of the work received. I would use them again in a heartbeat!
I used Piece of Cake to move from FL to CT and it was the best decision I've made! They were very responsive and able to accommodate a few things I had to change last minute! They were super early, all the staff was helpful, nice, communicative, very efficient and careful with all our belongings. We are extremely happy with their service and would recommend Piece of Cake to everyone! Thank you for making our move smooth and easy!
PoC helped me move my things from a single U-Pack ReloCube into a 4th floor studio walkup. To get a quote, I sent them a picture of the packed cube and they did the rest. The day of, two guys showed up with a truck and were super friendly and ready to get to work. They were both great and fast even in the face of the stairs and the 80+ degree heat! I'd definitely return for future moves with PoC
Without a doubt the best moving experience I've had. I wish I could give this company more than 5 stars. Niko was so professional, patient, and accommodating - making my move as relaxing as possible. He and his crew were very efficient and careful with my items as they disassembled, packed, transported, and reassembled them. The communication was top notch and I received a very accurate and competitive quote. If you need reliable movers, Piece of Cake is the only company you should consider. I am so impressed!
After many searches on finding a moving company, I choose Piece of Cake. Excellent choice! Sofia was extremely helpful and polite. Their quotes are accurate. The movers arrived on time, was professional, was very careful with my belongings, helpful in placing the boxes were I needed them and before leaving inquired if i needed further assistance. I am 100% happy with Piece of Cake. Would definitely recommend them to family and friends.
This was my first long-distance move (NY to GA) for a studio apartment. It was so easy, smooth, and hassle-free. Their quote (even for long-distance moves) is one of the most reasonable compared to other movers , They're very organized. They're fast. Like FAAST. I had a couple friends ask me how the move went, and all I can say was it went smooth, no issues at all, and didn't realize how lucky I got finding Piece of Cake til I heard some of their stories moving with other companies.
Pinky The Truck Everyone's

Favorite Mover
Meet Pinky the Truck, everyone's favorite mover. With an infectious smile and a can-do attitude, Pinky is a true New Yorker, always on the move, rolling with whatever life brings and ready to lend a hand (or wheel) on your next moving day. Follow Pinky's adventures @pinkythetruck