Moving Reviews
Thousands of customers highly rate our 5 star services
Your piece of cake move starts with a
free quote
Fill out the form below for a quick flat price quote
Real moving & storage reviews from real customers
At Piece of Cake Moving & Storage we are dedicated to delivering our 5 star service to each and every single customer. No matter how small or big your move is you will experience our unmatched service. We will always go the extra mile to ensure our customers have a stress free and memorable moving experience.
All
Local Moving
Long Distance
Commercial
Last Minute
Storage
All moving & storage reviews
I was really so impressed with PoC. We only needed them to move one (large/heavy) piece of furniture from Brooklyn to Harlem. PoC's quote for this was substantially lower than another moving company I reached out to, and the whole experience was great. They got the job done quickly and professionally. Didn't bat an eye or miss a beat when it turned out the furniture wouldn't fit in our elevator and they had to disassemble and reassemble. Highly recommend and will absolutely be using them for our next larger move!
I used Piece of Cake to move from NYC to the east end of Long Island and had the best experience from start to finish. My quote from Mit was extremely fair and there were no hidden charges after the fact. The movers arrived 15 min early and were super efficient and kind throughout the whole process. Highly recommend!
HIGHLY recommend Piece of Cake Moving company! I contacted 6 companies to find the best to move my son from apartment to condo in Manhattan. I knew immediately I was going to use Piece of Cake because of their professionalism on the phone, ease of communication, rapid response to all communication, and their willingness to work with the price. The day of the move, the 2 gentleman movers were efficient, kind, and very responsible. Excellent company!
I booked with POC after my friends used them. POC was super accommodating and super speedy in response to every question I had. Onmove day, I was shocked how fast the movers worked! I've never seen anyone carry so many boxes so quickly. I moved from Harlem to Brooklyn and everything was packed in 30 mins. Everything moved to Brooklyn in an hour. I'm very happy with my move, nothing got damaged and the guys were super sweet! I def recommend and will be using them on my next move
Piece of Cake was very responsive and flexible tailored their offer to our needs and sent two persons who were professional and kind. We enjoyed our experience with Piece of Cake who made the move much easier. Thank you!
PoC was amazing in its logistics, professionalism & courtesy. On the day of my move, 3 gentlemen were extremely supportive, kind & patient with me as they saw that I am under medical care. They were prompt, cooperative & very time efficient workers. They had me packed & moved by the late afternoon! I would never hesitate to highly recommend this company to anyone that needs to move & need the great help that these company & its workers provided me with! Much continued success to you at PoC!
Our move with PoC was so easy and the pricing was reasonable. The bins were delivered as promised and included zip ties to close the bins, labels and packing paper. On moving day, the movers arrived within the time period we were given, and they called immediately before they came. We had two very courteous movers who worked very efficiently. Our move with Piece of Cake was so much easier than moving by ourselves and the pricing was reasonable. Nothing was broken, the gentlemen couldn't have been nicer. Highly Recommend!!
It was truly a Piece of Cake. These guys arrived on time. These movers worked around the broken elevator, sometimes waiting for more than 10 minutes, for the working elevator to empty. They were patient, caring, and hardworking. They completed an entire 2 bedroom move in 4 hours, swiftly and efficiently. Everything was moved with care and precision. I cannot thank them enough for the great service. From the first time I spoke with a customer service representative to get a quote I knew I was in good hands.
When ever I used to think of any moving services before I used to get nightmares. First time I saw a moving company who treats their customers like a family and makes the whole moving experience pleasant. No doubt I will use Piece of Cake Moving services in future. Each and everyone in the company who works are A++
Amazing service! My movers showed up earlier than expected and were very pleasant to speak with. They moved quickly and efficiently and were careful with my fragile boxes. Highly recommend! Emanuel and Sergio were very patient and gentle with my things and the tight spaces. The guys texted me an hour before their arrival, which gave me time to wrap up. I let them know that my father is high-risk and asked them to wear a mask and they politely obliged.
Deni, Sacha, and Nole were the BEST!! they helped us move from a high rise building in Columbus Circle to a walk up in Brooklyn and they were highly efficient, thoughtful about wrapping our furniture, and overall very nice people. This was a phenomenal moving experience!
I used Piece of Cake to move me from Long Island to Queens, and the process could not have been smoother. The two men worked very quickly to load my things, including a large and heavy antique, and everything arrived and was unpacked safely. They asked where I would like them to place each item, and made sure I was satisfied with the unpacking before they left. It was really a smooth process at a great price and I'll definitely be reaching out to them again for my next move.
Made my move seamless. I had problema with my elevators in one building and with parking in another one and my movers went above and beyond to ensure my move was delivered safely and they were super polite. My team of movers spent the whole day with us and never complained or gave up. Everything was safely transported and installed. I highly recommend this service. 100/100. Will never use another company to move in NYC.
I had to leave my belongings in storage for two weeks. They were excellent. All of my belongings were wrapped, padded, and protected. The guys were efficient, friendly, knowledgeable, and courteous. The same guys dropped off when I moved from the storage unit. When returned, two pieces had slight damage. PoC offered a considerable amount of money, and I was very surprised and pleased. I will definitely use them again, and recommend them to anyone in the city. I've moved several times, and haven't been this pleased.
I movers haven't even shown up yet and I'm already very pleased. I worked with Blake to coordinate my move and he was wonderful. Quick responses, answered my questions, multiple proposals so I could compare rates to make sure it fit in my budget. I can't say enough good things about my experience so far. My stuff has to be stored for a few weeks and I was a bit hesitant at first but seeing what amazing customer service they have makes me feel I'm in good hands. Highly recommend!
Had an amazing experience moving with Piece of Cake. They responded very quickly and helped me through the entire process by answering my many questions. They made moving a breeze and I would definitely use them again in the future!
Piece of Cake movers were professional and responsive from getting the quote and their COI to the pre-move checklist to the two movers who handled my belongings as if they owned them. Highly recommend
Very pleased with this company. They showed up on time, were very professional, and took care while moving my belongings. The price was right and they were finished before the allotted time. Would definitely use them again and recommend them to a friend!!
These guys are the best.Simple as that. You can't beat the quality and pricing. Have used other moving companies before and always had bad experiences to make me lose trust in them. Piece of Cake restored that trust!
I could not have been happier with the service from start to finish. Customer service was responsive, communication was clear and left no guesswork, the movers called when they were supposed to, showed up on time for pick up and delivery, and were careful with my belongings, friendly, professional. It was a stress free experience and I thought the price was very fair. I would definitely use them again.
I had a fantastic experience with piece of cake! I'd never hired Movers before, so I had no idea what to expect and was very nervous that things would go wrong. But they were on top of everything and so kind throughout the whole process! Well done, and I hope to use your services again one day!
Piece of Cake Moving & Storage made my life SO EASY with my situation of Moved out from one place and need to stored my belonging for only a week during waiting period before I can moved in to new place. Both of the mover teams, moved out team and moved in team, were very nice and obviously handle my belonging with care. They were working on disassembling and reassembling all of the furniture so quickly and nothing be damaged.
I definitely recommend this company if you need a moving services!!!!
Long-distance move experience: From NYC to Tampa: 7 days from pickup to delivery Everything went smoothly; good communication with company regarding updates via email. Upon delivery of furniture, screws were missing for footings of couch, but crew went to Home Depot and returned within 2 hours to finish the job. Overall, great experience and awesome price!
I have had the pleasure to work with Miljan and jevgenij. These two guys were patient, quick, efficient and very careful with all boxes and fragile items. Took their time to wrap things well and maneuver within narrow hallways. This was a long distance move to Boston. They arrived on time and were patient enough to work within the new building rules.
PoC rocks! They are kind, professional, communicative, effective, and efficient. We were moving from NY to California, and we have a newborn so we had to opt for packing and moving our one-bedroom and needed it to be as stress-free as possible. We received a few communications while our stuff was in the process of moving across the country to let us know how things were going. Overall, they were a WONDERFUL choice, they rolled with punches with humor, they're efficient and clearly much better at me at packing/moving.
I used PoC to move from Brooklyn to Boston. Every step with them was smooth and efficient. I got a quote quickly and communication was quick and clear before, during, and after the move. My movers were professional, kind, and efficient. They treated my belongings with care and made the process as easy as an interstate move could be. The movers arrived at my apartment at 8am and finished unpacking the truck in Boston by 4:30pm on the same day. I would absolutely use PoC for any future moves!
This superior moving company is #1 in NYC and, in my view, in the USA! I contacted Piece of Cake in May 2022 when my 87 year old Mum decided to move from Westchester NY to Jacksonville. From the first contact, during the unprecedented busyness of the moving business during this housing market boom, Patricia proved again and again her knowledge, expertise, guidance and availability. The move was, as the cliche goes, a piece of cake. I am grateful and relieved to this business for their competence, courtesy and excellence.
Thank you to Sasa, Stephen and Johnny for making this move so incredibly easy. They called 15 mins before arriving and had my storage space completely moved out in 1 hour. They were very professional, fast, hard working and nice. I would highly recommend this company!! Can't wait for all my items to arrive at my new home in Florida.
I had such a phenomenal experience with this team. The team was professional, timely, and their prices were incredibly reasonable for the phenomenal service I got from them. Two guys moved my things from my storage unit in Plymouth Meeting, PA to my FIFTH floor walk up on the Upper East Side in NYC. Whenever I move again, this will be the first place I call. Cannot speak highly enough about my experience here
I moved from NYC to Boston. These guys were amazing to work with. They were very careful with all my boxes, especially with fragile items. Everything was well padded and moved carefully. At the same time, they were very efficient and quick. Dan was great to work with over the phone. I have had to revise my dates and quotes 3 times but he was able to give me good price and even match the competitor's rate with the 5 star piece of cake service. Highly recommend piece of cake
Awesome moving company! They covered all matters moving from soup to nuts. Our movers were prompt, professional, and courteous. Those dudes absolutely nailed the moving. We did an out-of-state move, and all of our items made it through with no issues. All items were in the exact condition they were in prior to the move, which is a testament to the level of care they took when moving our things. All-in-all, I couldn't recommend this company enough if you're planning a move. They truly made moving a piece of cake!
I have used Piece of Cake twice this year for interstate moves. In both cases I was not at the pickup (my rep was), and I met them on the delivery side. In both cases there were some important details. I only told them once at the booking and they had everything 100% correct in the record and execution. They kept me in the loop throughout. In person the delivery people were efficient and so friendly. Highly recommend.
I cannot say enough good things about piece of cake. Max has been incredibly helpful assisting in our cross country move. Their professionalism is simply unmatched. 10/10 would recommend! Thank you so much Max for everything!
Superb service from start to finish. Excellent website with every detail covered. Stefan was excellent making the arrangements.
After my original moving company was continuously proving to be unorganized and unprofessional, I decided to switch to Piece of Cake and was not disappointed! They made moving from the city to a storage unit in NJ the most seamless moving experience and all with a smile on their face and very reasonable rate.
We used Piece of Cake for two moves this month. What an amazing company! They were on time, had fair pricing and completed both moves with ease. The office staff is amazing and the customer service is great. What a breath of fresh air!
Imagine the best case scenario for your moving process. That's what it is like to work with Piece of Cake Moving! It was quick, great price, and great customer service!
I had a last minute move, and they were able to accommodate me. They were very friendly on the phone. My move time was 9am and they came around 8:30am, they called before they came up to my apt to ensure I was ready. I moved the majority of my things in to storage. Very quick, efficient and gentile with boxes. Nice and pleasant movers.
I had to make an emergency trip overseas and had to manage my entire move remotely. It was all perfectly and seamlessly executed. Easy to use online payments. Quite elated that I found these guys. Can vouch for them even in my sleep! Thank you guys!!
Piece of Cake was very friendly, efficient, and easy to use. They were amazing and will definitely use again!
Incredibly nice team, very hardworking, and high quality work! At a reasonable price. Would strongly recommend their services to any friends!
LOVE them, so friendly and efficient, would definitely use them again.
Awesome. Last minute call and they showed up did the work and were extremely professional and reasonably priced
Working with Piece of Cake was one of the best decisions we made in our recent move. Leading up the the move, communication with the HQ team was seamless. We could not believe how well they engineered the move. They were polite and very courteous, efficient, and incredibly hard working. Don't waste your time, just book with them.
If I could give 10 stars I would. I had so much anxiety about moving and this team made my move a smooth and painless process. They were friendly, efficient and so professional. Not looking to move again anytime soon but if I do POC moving is a no brainer. Will be recommending them to all friends and family.
I got quotes from a few companies and PoC was definitely the most responsive in terms of answering all my questions, willing to work with building limitations, and stayed in contact throughout the moving process. The movers were personable, efficient, and got the job done in a few hours. Overall great experience and would definitely recommend Piece of Cake to anyone I know.
The experience we had with Piece of Cake Moving was so great that we will never move in NYC without them! The movers were quick, efficient and went above and beyond our expectations. They arrived on time and got to work right away! We were blown away with how fast we were moved out and moved in!
Extremely happy we went with Piece of Cake for our move. The team was very fast moving, documents prepared quickly, responses very timely. The move was a piece of cake
Efficient and accommodating.There was a mix up with a mover I had previously scheduled and I contacted piece of cake at the absolute last minute.Excellent people and company!
I called them one day before I had to move. They showed up early and made the move a breeze.
I reached out to Piece of Cake about 5 days before our move. The movers arrived on time and worked very efficiently. Nothing was dented or broken in the move. I was so impressed with this company from start to finish, highly recommend!
One of the best moving companies I've ever used! Team of 3 arrived on time and got on with work immediately. They were polite, friendly and extremely efficientThey also had a lot of patience as our elevator booking was delayed and didn't complain at all. I couldn't recommend their services enough!
I booked piece of cake moving about 36 hrs before my move and they were beyond accommodating. The guys were smiling the entire time and were so efficient loading up the truck. They even read the labels on my boxes and put everything in the appropriate rooms in my new apartment. It was the best and fastest moving experience.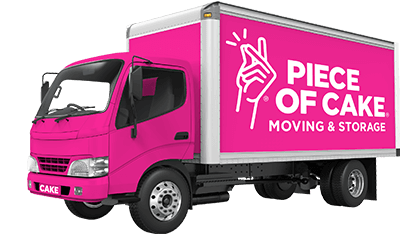 Just what you were looking for?
MAKE YOUR MOVE!