You're in safe hands with us
Safety for you, your belongings, the community and our staff
Your piece of cake move starts with a
free quote
Fill out the form below for a quick flat price quote
Safety is at the core of everything we do
Your safety and the safety of our team is at the heart of everything we do. We have the highest standards of risk minimization and management across all areas of our business.
As one of the most compliant and well serviced fleets on the East Coast, we are equipped with GPS tracking and appropriate insurance and accreditation with both Federal and State authorities to ensure the safety of your cargo and the general public.
The Piece of Cake approach to your safety
Safely packing and protecting your Items
Every item receives individual attention when our packing experts prepare a custom plan to safely pack and protect your belongings for a move. With a safe arrival at your destination in mind, they detail their approach including what materials will be used and how they will pack your home or office.
One of the lowest claim rates in the USA Moving industry
Choosing the right mover can determine whether you have a mess to clean up at the other end, weeks of disruption or a claim that takes months to settle.
The American Moving & Storage Association estimates there are 7,000 moving companies operating in the United States at more than 13,900 locations. These companies range in size and scope from large corporations to family owned businesses that employ less than 5 people.
Piece of Cake is your safest decision when picking a mover. When accidents happen we are professional, responsive and put your needs first.
2% Piece of Cake Moving Claim rate
VS
20% Nation Average Moving Industry Claim Rate
*In the USA, 1 in 5 moves results in a claim according to ASMA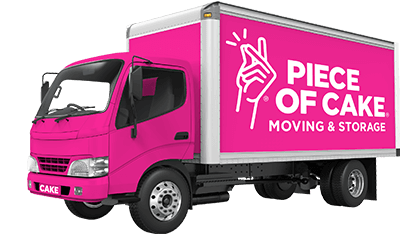 Just what you were looking for?
MAKE YOUR MOVE!