Experienced in moving you from
NY to Philadelphia, PA
Experienced in moving you from
NY to Philadelphia, PA
Named the first world heritage city in the United States, Philadelphia has incredible architecture, affordable living and all the amenities of a major capital without the New York price tag.
With a population of 1.6 million people it's the second largest city on the East Coast with a relatively affordable housing market and a walkable small town feel from neighborhoods like Southern Philadelphia to University City and Rittenhouse Square.
Piece of Cake Moving and Storage regularly moves New Yorkers to Pennsylvania's largest city, including professionals, families, retirees, academics and students choosing expert handling with our affordable flat fee pricing, real time tracking and full insurance options.
For a seamless move ask about our add on services for your relocation to Philadelphia, including professional packing, custom crating, piano moves, overnight storage and unpacking.
Moving you to
Philadelphia

and all of its major suburbs

Piece of Cake Moving & Storage can move you to all of Philadelphia's suburbs and throughout the Delaware Valley including:
Ardmore
Berwyn
Blue Bell
Bryn Mawr
Charlestown
Chesterbrook
Collegeville
Conshohocken
Devon
East Marlborough
East Whiteland
Exton
Greentree
Haddonfield
Jenkintown
King of Prussia
Lionville
Media
Montgomeryville
Narberth
Nether Providence
Newtown Square
Penn Wynne
Plymouth Meeting
Radnor
Swarthmore
Upper Providence
Upper Uwchlan
Villanova
Wyndmoor
Our top moving tips when moving to Philadelphia, Pennsylvania
Once you've settled in, you'll be free to explore almost 70 National Historic Landmarks throughout Philadelphia including the Liberty Bell and other cultural sites throughout the city.
The history of a city doesn't get much bigger than the birthplace of the nation, where the Founding Fathers came together in 1776 to sign the Declaration of Independence and soon after write the U.S. Constitution.
Some other highlights to know about Philadelphia include:
Cost of Living.

The Philadelphia housing market has some bargains to be found, with the median house price almost half that in New York and Boston. If you're renting a two bedroom apartment is priced below the national median at an average of $1170 a month. Monthly utilities are also priced below the national average and the cost of food and groceries is cheaper than New York. If commuting by car, expect serious congestion in peak periods, or take advantage of one of the largest public transit networks in the country, the SEPTA, the Southeastern Pennsylvania Transportation Authority.

Economy.

Philadelphia was the largest city in the United States until it was overtaken by New York in 1790. Today it is the eighth largest U.S. economy, with leading sectors including financial services, bio technology, food processing, manufacturing and oil refining. The Delaware River sees more than 2,400 ships at its port facilities each year for goods such as fruit, petroleum and containerized cargo. Federal and state governments are major employers as are the University of Pennsylvania and the Children's Hospital of Philadelphia. It is also one of the largest health education and research centres in the country.

College Town.

Philadelphia has one of the largest concentrations per capita of higher education institutions in America, with more than 80 colleges, universities, trade and specialty schools. The oldest university in the country, University of Pennsylvania, leads a sector including Temple University, Drexel University, Thomas Jefferson University and 5 schools of medicine. When it comes to Primary and Secondary Education, Philadelphia is the 8th largest school district in the United States including 86 charter schools.

Sandwich City.

The cheesesteaks, hoagies, roast pork sandwiches and soft pretzels are legendary, drawing tourists and food lovers to visit. The term 'hoagie' was first used right here in South Philadelphia in the late 19th century when Italian migrants working in the Hog Island shipyard made sandwiches filled with Italian meats and cheeses. Word to the new comers, knowing how to order your cheesesteak comes with some finessing, like deciding if it will be "wit or witout" onions or 'Whiz wit' means you want Cheese Whiz instead of American or Provolone, with onions.

Arts and Culture.

There is no shortage of world class cultural experiences in Philly with the country's first art Museum, the Pennsylvania Academy of Fine Arts, the Barnes, the Rodin Museum and the spectacular architecture of the Philadelphia Museum of Art.The Philadelphia Orchestra one of the 'big five' orchestras playing at the Kimmel Centre for Performing Art. Other major venues include the historic Walnut Street Theatre and the Mann Centre. While events range from the two day Made in America music festival or the local Manayunk Arts Festival.

Open spaces.

You'll definitely have more elbow room in Philadelphia and that extends to more than 300 parks and playgrounds like Fairmont Park and more than 160 miles of trails. While you need to travel to New Jersey for a beach day, activities along the city's rivers and wharves like Penns Landing provide unique experiences. For nearby hikes, there are the Pocono Mountains or the Delaware Water Gap National Recreation Area.

"New York Knicks
Official Sponsor"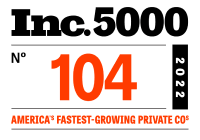 "USA #1 Mover"
"Voted NYC
Best Mover"

"The Mover
Who Cares" "Expert
NYC Movers"
From start to finish my move was a great experience. I immediately got a quote. The scheduling was easy, and they provided me with information regarding insurance coverage (and took care of the paperwork my building provided). The move itself went like clockwork. The movers arrived on time and texted me when they were on their way with an ETA to the delivery site. They moved everything up the 3 flights of stairs into my apartment quickly and safely. A great company that provides great service at very reasonable rates.
I was amazed how efficient the guys were. they sorted out my items to be removed and, went straight to work. We will definitely use A Piece of Cake multiple times in the future until, we officially make the BIG MOVE! THANKS FOR YOUR HELP....YES, IT WAS A PIECE OF CAKE! NO STRESS INVOLVED...JUST SWEET SERVINGS.....
Was very easy to call and set up a move. The price was good to. I had some mix-ups and needed to add items and even change the date, but they were able to easily accommodate. Day of the move the crew was super nice and professional. They quickly packed up the entire apartment with ease, I didn't really lift a finger. They made what is usually a stressful day pretty easy.
They came at zero hour after the moving company I initially hired and paid a deposit to canceled. I was freaking out about my move not happening at all but they did get this done and my stuff arrived more or less intact and accounted for. They handled changes and snafus gracefully and earned their money. Hopefully I won't be moving again for a long time but if I get forced into that again, I'll remember this experience.
They were awesome! They take everything apart and then re assemble for you.They wrap up your tvs and glass shit professionally. They take the legs off your couch so it fits through doors. Everything's wrapped until it's inside so it doesn't ruin the paint on your walls if they rub against them.Not even a wine glass was chipped.
Excellent moving company. I hired 2 men for 2 hours to complete 1 bedroom move. They arrived early, were extremely efficient, helpful, personable, strong, and careful. They finished the job with 45 min to spare. Everything went extremely smoothly. I would hire Piece of Cake again.
Nicholas and Giga made this moving experience an easy one, especially since I was moving alone. They were punctual, kind and very thoughtful. When we arrived to my apartment? They helped unwrap all the packing tape and set up my furniture and bed - something that would take probably days for me. They delivered excellent service and went beyond my expectations.
Jose and his team did a great job moving my husband and I. They arrived on time and were very organized. They were professional, courteous and moved us quickly. They wrapped our furniture very well. They took apart and put together our bed and sectional couch. We were very pleased and would recommend them.
Piece of Cake Moving was phenomenal to work with. From the initial sale, to the follow up, to the day of delivery. The moving crew themselves were a dream to work with. I honestly don't know how they managed to move everything we'd accumulated over the years in such a short (relatively) period of time. Will definitely use them again (in hopefully 7-8 years).
Great move with POC movers! I rented their pink bins which was an excellent choice, they provide plenty of packing paper, zip ties, and tags. My team arrived right at the start of their arrival window and quickly and safely packed all my bins and furniture into their truck. The team just as efficiently unloaded everything, leaving the bins in the labeled rooms and re assembling my bed frame. I definitely recommend renting their bins. I would definitely use Piece of Cake movers again and recommend them to a friend.
The movers were so professional, friendly and quick. They took such great care of my stuff. I happened to move on one of the hottest days of the year and felt so bad. They were gracious and so still worked quickly. Pls make sure you tip your movers good, they work hard and were really great!
I had made an appointment from another moving company that completely screwed me over the day of. I called every moving company in New York freaking out, and Piece of Cake was willing to come at 7pm to help me move, last minute. I genuinely don't know what I would have done if they didn't go out of their way to fit me in. Anytime in the future I will be using piece of cake moving! They boxed and unboxed so fast and efficiently, it was amazing!