NYC Moving Companies During COVID-19 | All You Need To Know (FAQ)
Moving companies are considered essential business and services in the New York City and therefore are able to operate. We can still move you.
COVID update as NYC works towards herd immunity
COVID-19 vaccines are rolling out in New York City but vigilant health precautions are still in place for anyone needing to move home or office.
Moving companies worked straight through the height of the pandemic as essential businesses and services in New York City and still have stringent procedures in place to help protect you, the broader community and their movers. Stay on this page to find answers to all questions related to moving services as New York manages this phase of the coronavirus outbreak and works towards achieving herd immunity.
Moving Companies and Moving Services FAQ during COVID-19 in NYC
1. Are moving companies still required to meet state and federal health guidelines relating to the CoronaVirus (COVID-19)?
Yes, moving companies in NYC are required to meet CDC and NY State health requirements in fulfilling their essential business function under the category of "logistics" and "storage".
Moving companies should have robust COVID related precautions in place. Ask your mover about the options for moving safely with them before you pay a deposit.
2. Can I move normally now the city is past the  CoronaVirus (COVID-19) Shutdown?
The good news is that you can move freely, however mask wearing, social distancing, disinfecting and other measures still apply to the experience.
As with any activity in this period of community vigilance, we advise you to postpone your move if you are sick, have had contact with COVID-19 or are still recovering from the virus.
3. Are buildings and landlords allowing moving and moving companies to enter their properties freely?
Yes, the handful of buildings that refused to allow tenants to move at the height of the PAUSE have now lifted their restrictions. There should be no health related restriction on a property unless a building-wide infection requires access to be curtailed. As with any move, check with your old and new building management team to make sure there are no issues when you book your moving slot and service elevator.
4. Are Piece of Cake Movers and Foremen tested for CoronaVirus (COVID-19) and is it safe for them to move me?
At Piece of Cake Moving & Storage we run daily monitoring and health checks with our movers and foreman for symptoms of the CoronaVirus (COVID-19). They feel a deep sense of responsibility to the community and do not take any risk with public health or their colleagues.
As essential workers, our team was able to be vaccinated in Q1 of 2021 as part of the phased rollout in New York but we continue to remain vigilant.
If any movers show or express any symptoms of CoronaVirus (COVID-19) they are advised to stay home and monitor their symptoms. They are not authorised to return back to work nor booked for moves unless they have clearance from a medical professional and have stayed at home for two weeks.
All our moving team members wear gloves and face masks throughout your entire move, they also use hand sanitizer after every move.
5. Can I ask my movers if they have been vaccinated?
You or your building management are welcome to ask your movers if they have been vaccinated, our movers will assist in holding and showing their vaccine cards. We appreciate that their privacy is respected and photos of their vaccine cards are not taken. Under federal law (HIPAA) they are not obligated to disclose any health information. Piece of Cake Moving and Storage monitors the vaccine rollout in our team and ensures any new members onboarded book their appointment as soon as practical.
For more information relating to HIPAA and Covid-19 visit https://www.hhs.gov/hipaa/for-professionals/special-topics/hipaa-covid19/index.html
6. What is Piece of Cake Moving & Storage doing to protect their customers, the community and their staff against the continuing risk of CoronaVirus (COVID-19)?
Since March of 2020 little has changed for Piece of Cake. Now in 2021 we continue to take the following precautions to protect you and our employees:
Commercial sanitization of all of our trucks and moving equipment after every customer move.
Providing all of our movers with disposable gloves and hospital grade hand sanitizer for each individual move.
Briefing Movers and Foreman on all COVID 19 updates.
Monitoring employees daily for symptoms including temperature checks before the start of their shift. If any mover is showing possible symptoms during their shift, they and their crew are sent home and can not return without a certificate from a medical professional stating they do not have COVID 19 and have completed the recommended quarantine to er on the side of caution.
Implementing social distancing by breaking up our workforce, with non essential workers operating remotely from home.
Ensuring widespread vaccination of our in office staff and moving crews as they qualify.
7. How many movers can be present during my move in this period?
Depending on the size of your move a minimum of 2 or 3 movers will arrive to complete your move. Our movers are trained to move you as quickly and safely as possible.
Piece of Cake Moving & Storage has taken extra measures to protect the community, our customers and our staff through increased sanitization of our trucks and moving equipment. All movers are also required to wear masks, gloves and wash their hands after every move with hand sanitizer.
Our movers are distancing themselves from the customer throughout the experience and respect personal space and any additional requests a customer may have during the move.
8. Can I have a contactless /contact free move?
A contactless or contact free move is performed with minimal human contact during the physical process of your move.
Prior to the COVID 19 outbreak, the physical moving process (i.e. the stage after planning and booking) would typically involve frequent human contact during the pick up and drop off of your items, for example shaking hands and speaking within close distance.
With contactless moving, there is minimal human contact while our crew is at your old and new premises. We continue to conduct all moves as contactless moves and also offer video monitoring options if you cannot be present. In these cases you will still need to have an authorized representative unlock and lock up your buildings during the move.
You or an authorized representative still need to review the itemized itinerary list (bill of lading) before your items are loaded or unloaded. This can be performed with social distancing between yourself and the movers during this step of the process, or via video call.
Here are some of the characteristics of a contact less move;
Virtual home estimates with a video walk through of your home
No hand shaking
6 ft distancing between yourself and the movers
The option to leave the premise once you have allowed your movers into the pick up and drop off location, and to also review the itemized itinerary list (bill of lading) before your items are loaded or unloaded
Paperless moving – no pens needed to sign contacts, electronic contracts and payments
Phone call and text communication with your moving foreman during the move if you are in another room or have left the address during the move to practice social distancing
Movers who are wearing masks and gloves and practicing social distancing and hand sanitization during each customer move
Moving trucks that are cleaned and sanitized after every customer move
For more advice on how to stay healthy during this period review the latest CDC guidelines here.
9. Does Piece of Cake Moving & Storage offer contactless moving?
Yes, Piece of Cake Moving & Storage is performing all of our moving services during the COVID 19 response period as contactless moves, as outlined above. We are very understanding if a customer has a specific request regarding their contactless move. Please let us know prior to your move date so we can make a note for that requirement on the day.
Despite being in this next phase of the COVID-19 response, Piece of Cake Moving and Storage remains vigilant about any updates and advice from health authorities and will adjust operations accordingly to help protect the public.
10. I haven't received the vaccine as yet, do you have any advice for my upcoming move?
One way to contain the risk while planning for your move is to have packing supplies delivered instead of repurposing second hand boxes.
When booking your move, confirm your movers will wear masks at all times and ask if cleaning measures such as hand sanitizers are provided in their trucks.
As with any business process in NYC at present, be sure to keep your distance on the day, be mindful of not touching your face during the move and clear out of your apartment or go for a walk and get a coffee for half an hour if you can.
As you unpack, be generous with the disinfectant on surfaces as items that won't be damaged by cleaning chemicals.
For our full list of tips visit 10 tips for moving safely in NYC during COVID-19 restrictions.
11. What if I test positive for COVID or have come in contact with someone who has COVID, can I still move?
If you have tested positive for COVID or have come in contact with someone who has COVID please let us know ASAP, your move will be rescheduled free of charge for a later date. We also suggest that you contact your building management to see if you can get an emergency lease extension given the circumstances.
We can still move you if you would like to opt for a contactless move, which means you will not be present during the move at either the pick up or drop off location. Our moving crew will need to handle your items with gloves. We suggest that you wipe your belongings with disinfectant prior to moving day if you have tested positive for COVID.
12. Do I need to disinfect my items pre and post move day?
We recommend that if possible you should wipe down all hard surfaces of your furniture and spray all soft surfaces with disinfectant spray to protect yourself and movers during your moving day. Especially if you have tested positive for COVID, or have come in contact with someone who has tested positive.
If you have opted for a contactless move, even though our movers will be wearing gloves and masks, this will stop the spread of the virus. Repeat the cleaning process pre and post move, all of our moving equipment is sanitized regularly.
13. Are Piece of Cake's plastic moving bins clean and safe to use during COVID?
Yes, our plastic moving bins are cleaned and sterilized after every customer rental service with commercial grade disinfectants, safe for use for the next customer.
14. Does Piece of Cake comply with federal and state COVID 19 Regulation?
Yes, Piece of Cake is constantly monitoring and adopting state and federal COVID laws and mandates to protect our customers, movers and community.
---
Ready to make a move? Get in touch today for an obligation-free guaranteed flat price moving quote.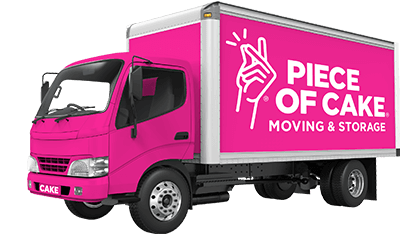 Just what you were looking for?
MAKE YOUR MOVE!