How much does a storage unit cost?
Having to downsize your stuff is common if you're moving to NYC since space is at a premium in the city. If you realize you don't have space for some of your belongings, you may be looking into where you can store them for safe-keeping. Storage facilities are available to house your items but it will come with a price tag that can range based on a number of factors.
Before you sign any agreements, it's worth taking some time to investigate what your needs are, understand what will impact the cost, and how much you're willing to spend so that you find the right spot for your stuff.
Factors that will impact the cost of storage
When considering what storage solution will work for you, you may consider the following variables that will impact your overall storage bill:
How much you have to store:

Ultimately, the total volume of what you have will impact the size of the unit you rent so that all your belongings fit safely and securely.

Type of storage solution:

There are now many storage solutions available, such as self-storage units and pick up/drop off storage. In recent years, pick up and delivery storage solutions have become very popular. This is where the storage company picks and moves your items to their storage facility. It's a very convenient option because you never have to visit a storage unit and do any heavy lifting.

Location of storage facility:

If you opt for a storage unit location will impact your cost. A city unit will cost more typically than an out of city unit.

Length of time needed or contract period:

How long you'll need to store your items will impact your cost. Sometimes, storage facilities will have discounts, such as a price break on longer-term rentals or military discounts.

Security features:

More secure locations may have alarms or monitoring, which will increase the cost of renting.

Climate control:

Renting a unit in a storage facility that keeps the temperature and humidity constant may be necessary to safely store some items, such as artwork or furniture made of wood. This will add to the cost of renting a unit.

Availability:

The number of available storage spaces may make the unit prices fluctuate. If more storage units are available in a given facility, the prices may be lower.
Average costs for pick-up and drop-off storage in NYC
You have two types of storage options; On demand pick up and drop off storage, and Self storage units. When it comes to services that will pick up the items you'd like to have stored and deliver them to you when you'd like them back.
For moving and storage services in one: Your monthly storage cost will be based on the total volume of the items you wish to store, any special requirements for your items and the duration of your storage. It's measured in cubic feet, and the costs can range from about $0.50 to $2.00/cubic foot give or take plus tax in some states, such as NY. You'll also be paying for the cost of the move both to the storage facility and when your items are retrieved from the storage facility back to your given location. Any other fees for services, such as boxes or packing services will be an additional cost. This service is extremely convenient as you never have to leave your home, also usually considerably cheaper as you are paying for what is being stored, not empty space of a storage unit.
Average costs for self-storage units in NYC
In NYC and the surrounding areas, the average prices for storage units can vary quite a bit between sizes and among facilities. There are many unit sizes available, but here are a few to get a ballpark idea of how much it'll cost per month:
5' x 5' closet-sized storage unit on average will cost about $60. This could be great to store off-season gear and clothes that you aren't using every day.
5' x 10' half-bathroom size storage unit has an average cost of $200. This size may be good for a bedroom set (bed, dresser, nightstand), small appliances, or a table and chairs.
10' x 10' one-car garage size storage unit will on average cost you about $300. You might store large appliances or a couch and chairs, or several bedroom sets in this unit size.
10' x 15' with just a bit more space will on average be about $480. You'll get a bit more room than the next size down to add more boxes and items in addition to the larger appliances and furniture.
10' x 30' (or a 15' x 20') will be upwards of $500, but if you need a space that's the size of a two-car garage for multiple large appliances, antiques, couches, or bedroom sets, this may be the spot for you. In some places, it may be large enough to store a vehicle.
Shopping around for a good price
Once you've determined what type of solution works for you and for how long, shopping around to the various storage rental businesses will help you gather some quotes to compare. You might also consider recommendations from people you trust who've rented a storage unit in NYC. Doing this comparison shopping is key — it will help you get a sense of what's reasonable in the area and who will provide the type of storage that fits your budget. Sometimes, you'll be able to take advantage of limited-time sales that'll reduce your cost. All in all, taking time to search for low costs for the highest quality storage facilities will likely pay off in savings.
Ways to reduce your storage costs
Some costs may be non-negotiable, like administration fees and mandatory insurance costs when signing a storage unit agreement. However, there are a few strategies you can employ to shave off some dollars on your total bill:
Only opt for storage facilities that have the minimum amount of amenities you need. For example, if your items don't require a steady temperature to be stored safely, you'll likely save some cash by not getting a climate controlled storage unit.
For self-storage units, use space-saving strategies (ex: storing items vertically stacked in boxes, keeping heavier items on the bottom) to pack any items in the unit so that you are only paying for the amount of space you need.
When it comes to insuring your items, check your existing insurance plans. Your belongings may be covered under your renters or homeowner's insurance. That way, you don't have to pay extra for insurance at the facility.
Want to take the guesswork out of storing your belongings? You won't have to lift a finger to store your stuff securely with Piece of Cake Moving and Storage. We'll pick your items up and store them in our competitively-priced units. There, they'll remain safe with our 24/7 monitoring whether you're in a pinch for a short-term unit or plan to store your items indefinitely. Once you're ready to retrieve your belongings, just give us a ring. We'll drop them to your location when you need them. Many tasks in NYC can be complicated, storing your stuff with us won't be.
---
Ready to make a move? Get in touch today for an obligation-free guaranteed flat price moving quote.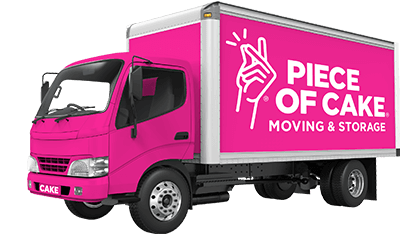 Just what you were looking for?
MAKE YOUR MOVE!