Why use plastic moving bins when moving
When it comes to using cardboard boxes versus plastic storage moving bins for your next relocation, it's worth considering your items, how much you have to pack, and any unique moving requirements first before jumping ahead with one over the other.
And, knowing a bit more about the benefits and considerations of using plastic moving bins will help you decide whether it is the right moving container for you. No matter which material will be the winner for storing your items while in transit, Piece of Cake Moving & Storage can supply you with containers, including our plastic bin rental service or moving supply bundles that include cardboard boxes, and get them to where you're going next!
The Benefits of Using Plastic Bins for Your Move
There are a number of characteristics that make these storage receptacles an attractive option for your next move. Some benefits of stuffing your stuff in plastic moving bins include:
Eco-friendly:

If you've got plans to reuse plastic bins you purchase for other purposes once you've gotten to your new home, sticking with plastic ones may be the way to go. In terms of longevity, they do take the gold. You could also rent plastic bins for your move that can be returned so that the movers can use them again — another sustainable option! However, if you're planning to get rid of any boxes used in your move, it may be a greener choice to go with cardboard boxes that can be recycled after use.

Durability:

The truth of the matter is that plastic, as a material, is more durable than cardboard. If you need a tough exterior to keep your items safe in transit, a sturdy plastic bin may be what you're looking for. That said, it's wise not to discount the strength of professionally packed cardboard moving boxes to keep your keepsakes and other items in good shape during your move.

Stacking potential:

In terms of putting one on top of another, plastic moving bins may stack up differently than cardboard boxes. For some plastic bins you might already have, the lips and handles on the lids may make it difficult to stack the bins on top of one another. However, other plastic moving bins that you can rent are specifically designed to stack one on top of another. Because they are more durable than cardboard, there's potential for stacking them without concern of crushing the bin underneath or what's inside it.

Warding off moisture and dust:

Plastic bins can offer more waterproof and dust protection for your belongings. So, for moves in the rain or in the winter, these might be a great option — just make sure to lock the lid! Important to note: if moisture does get trapped in the air-tight plastic container, it may run the risk of mold or mildew and wreak havoc on your items. Additionally, leather is one such material that stores poorly in moisture, so stashing your favorite leather biker jacket in a plastic storage bin could leave you feeling sad the next time you go to grab it. Be sure to check for moisture before closing the lid.

Providing quick access:

Maybe you know you'll need to get to some of your items quickly once you've successfully moved. If you pack the items into a clear plastic bin that you'll need shortly after you've arrived, you can easily see and get to what you need without delay.

Cost:

If you hire plastic moving bins for your move from a professional moving company, it could run you less than buying a set of cardboard moving boxes. Other benefits that lower cost: there's no need for packing tape!
Packing Strategies for Plastic Moving Bins
If the conditions are right for choosing plastic bins for your next move, it's good to keep in mind that how you pack them remains largely the same. You'll still want to:
Use packing paper to wrap and carefully secure your fragile and delicate items
Avoid overpacking the bin or box (someone will need to carry it off the vehicle!)
Label them so you know what you're unboxing when you get to where you're going
Ready to relocate and still not sure whether to choose plastic or cardboard containers for our move? Don't fret one more minute about it; Piece of Cake Moving & Storage handle it. We can chat with you about your needs. If you're leaning towards plastic, you may be interested in our plastic bin rental service. We'll supply you with clean and sanitized bins right before your planned move, deliver the packed bins to your new location, and pick them up after you've unpacked. Sounds easy, right? But there's more: we can make your next relocation a no-fuss move with our White Glove Platinum Packing Experience to pack and unpack for you as well! We're here for you to make getting to your next location a breeze.
---
Ready to make a move? Get in touch today for an obligation-free guaranteed flat price moving quote.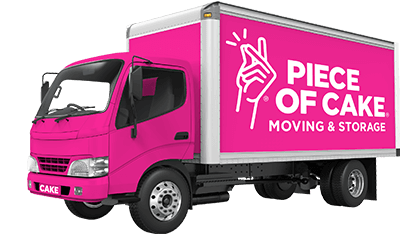 Just what you were looking for?
MAKE YOUR MOVE!