Settling In After a Long-Distance Relocation
Relocating to a new place, whether it's across state lines or cross-country, is an adventure brimming with opportunities and challenges. As the dust settles from the move itself, the journey of settling into your new environment begins. It's a phase that requires a blend of patience, adaptability, and a proactive approach.
From utilities and address changes to local services and essential arrangements, we'll guide you through the logistical intricacies of settling in after a long-distance relocation to help you turn your new space and neighborhood into a home you can grow roots in.
Putting Your Home Together 
The unpacking process can be overwhelming but tackling it methodically can make a significant difference. Start with essentials and items you'll need right away, such as kitchen essentials, bedding, and personal hygiene products. Gradually move on to other items as you settle in.
Adding your personal touches to your new home can make it feel like yours sooner. Hang up familiar artwork, arrange cherished items, and incorporate the décor that resonates with your style. This not only makes the space more inviting but also aids in creating a sense of familiarity and comfort.
Take time to explore your new surroundings. Go for walks, drives, or public transportation rides to get a feel for your neighborhood. Locate nearby grocery stores, pharmacies, and other essential services to make your daily routine easier.
Essential Utilities and Services Setup
Ensure utilities like electricity, water, and gas are set up and functioning. Schedule service appointments as necessary to avoid any interruptions.
Internet, Phone & Cable Services:
Arrange for internet, phone, and cable services to stay connected. Research local providers and packages for the best fit. Schedule equipment and setup appointments as necessary for prompt connection of services.
Change of Address and Mail Forwarding
Update Important Institutions:
Notify the post office, banks, schools, and any subscriptions about your change of address. This helps ensure that important documents and mail reach you.
If you're still receiving mail at your previous address, set up mail forwarding with the post office to avoid missing any important correspondence.
Neighborhood Amenities
Grocery Stores and Essential Shopping:
Locate nearby grocery stores, pharmacies, and convenience stores to meet your daily needs.
Banks and Financial Services:
Research and visit local banks or credit unions to set up new accounts and access financial services if needed.
Fitness, Health & Wellness:
Research and visit nearby gyms, fitness centers, or yoga studios to maintain your health and wellness routines in your new location.
Healthcare and Medical Records
Find Local Healthcare Providers: 
Research and register with local doctors, dentists, and specialists to have medical care readily available when needed. Search for local veterinary providers as well if you're relocating with fur babies.
Transfer Medical Records:
Arrange for your medical records to be transferred to your new healthcare providers to ensure a continuation of care.
Vehicle and Transportation
Vehicle Registration and Driver's License:
If you've moved to a new state or country, check the regulations for updating your vehicle registration or driver's license.
Familiarize yourself with local public transportation options, routes, and schedules to simplify commuting if needed.
Schools and Education
Enrollment and Transfers:
If you have school-age K-12 children, enroll them in local schools and arrange for the transfer of their academic records.
Childcare and Extracurricular Activities:
If you have kids, explore local childcare options and extracurricular activities to ensure a smooth transition for your children.
Safety and Emergency Information
Local Emergency Services:
Familiarize yourself with local emergency numbers, hospitals, and police stations to be prepared for any unforeseen situations.
If necessary, set up home security systems, smart wireless alarms or security cameras.
Explore and Network:
Discovering Local Hangouts:
Take time to explore nearby cafes, restaurants, parks, and recreational spots to get a feel for your new community.
Connecting with Neighbors:
Attend neighborhood events or introduce yourself to neighbors to build a sense of belonging and community, which is especially helpful in instances when your neighbor receives a package for you if you're not home.
Establishing a Routine:
Moving often brings changes to your daily routine. Embrace the opportunity to establish new habits that align with your new environment. Reevaluate your commute, work schedule, and leisure activities to maximize your time.
Explore Local Activities:
Immerse yourself in your new community by participating in local events, classes, or clubs. Engaging with fellow residents can help you forge connections and discover recommended gems from locals in your new hometown.
Caring for Your Well-Being
Amid the hustle of settling in, don't forget to prioritize self-care. Maintain a balanced diet, engage in regular physical activity, and dedicate time to activities that bring you joy and relaxation.
Adapting to a new environment can be challenging, but an open-minded attitude can make the process smoother. Embrace new experiences, cuisines, and traditions to broaden your horizons and make the most of your new locale.
Celebrate your achievements and milestones in your new home. Marking these moments can create positive memories and solidify your sense of belonging.
Settling into a new space after a long-distance relocation is an intricate journey that requires patience, a willingness to adapt, and a proactive approach. As you begin the logistical phase of settling in, remember that each step contributes to transforming your new space into a functional and comfortable home. By setting up utilities, updating important institutions, and familiarizing yourself with local services, you're ensuring a seamless transition. These logistical considerations not only streamline your daily life but also help you integrate smoothly into your new neighborhood and community.
When you're ready to explore the benefits of professional moving assistance, don't hesitate to get in touch with Piece of Cake Moving & Storage for a free quote – we specialize in expert long-distance moves. Our skilled team is dedicated to tailoring relocation solutions to ensure a seamless transition, which includes services such as specialized care for valuable items, our all-encompassing Platinum Packing Experience, and dependable moving supplies.
So, roll up your sleeves or get in touch with us so we can handle the logistics, while you can enjoy the rewards of your new journey!
---
Ready to make a move? Get in touch today for an obligation-free guaranteed flat price moving quote.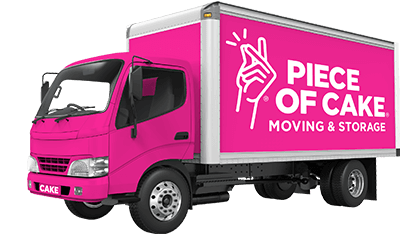 Just what you were looking for?
MAKE YOUR MOVE!