How to use packing paper when moving?
When it comes to packing for your move, ensuring the safety of certain objects — particularly the most fragile ones — is key. As a powerhouse moving tool, packing paper can be used to wrap up items and fill empty spaces in boxes so that items don't move around while in transit.
Packing paper is highly recommended, made for this job specifically, and does a more effective job than old newspapers for several reasons. To provide protection for your priceless and delicate belongings, the front-page headline of the Moving Times reads: "Packing paper is your best bet!"
If you need to purchase moving-grade packaging paper and/or other moving supplies, such as boxes and tape, check out our moving bundles. They're designed specifically for the size of your move, with all the moving material you need — packing paper included.
Packing Paper Has Several Advantages
Packing paper would easily be regarded as a winner for wrapping and cushioning material while transferring from one location to another. That said, while some may posit that packing paper and bubble wrap compete for the heavyweight moving title, the truth is that the packing materials complement each other rather than compete.
Packing paper is extremely helpful while packing up your home — likely more than you think.
Here are of the qualities that make this tool the one for the job:
Non-abrasive:

Packing paper won't scratch or harm fragile or delicate surfaces. Smooth packing paper is only used to preserve extra-delicate items in your house — such as anything made of glass or porcelain that runs the risk of breaking during the move.

Hygienic:

Because it's ink-free, wrapping up items in packing paper won't stain or transfer the classified section to the surfaces it's intended to preserve. Using clean, blank packing paper will provide a great initial layer of protection.

Durable:

A few sheets of packing paper wrapped around an object create a sturdy bundle that proves to be very durable for the duration of your move.

Space-saving:

You'll be able to put more paper-wrapped goods into a single box than you would with bubble wrap or other thick cushioning materials like old bath towels. Because of this, it will allow you to maximize room in your packing boxes and containers.

Snug-fitting:

Once you cut or tear the paper to size if needed, you can wrap it snuggly (but not too tight) around objects of most shape to provide protection against dirt, dust, and scratches. Tape can be used, but often, the paper is enough on its own to stay wrapped.

Cost-effective:

If there's any way to cut down on relocation costs, you can look to packing paper to help out. A pack or roll of acid-free and ink-free packing paper will run you between $10 to $40.

Environmentally-friendly:

Typically, packing paper is recyclable like their other paper counterparts, cardboard boxes. After the relocation, you may simply place any packing paper that you don't want to keep in the recycling bin.
Tips for using packing paper
Packing paper may be used in a few different ways. One method is to wrap your goods as if they were gifts to protect them from harm on all sides. Another use is to crumple the paper and put it inside fragile items (if possible) and in or around moving crates to create a buffer between your fragile items and anything that may bump up against them. These methods are useful throughout your house as you pack up to move.
In the kitchen? This paper can definitely serve a big purpose. Plates can be wrapped in the paper separately. It may seem time-saving to wrap several together. However, that would create an opportunity for them to bump up against each other and get damaged — which defeats the purpose. Then, place each individually-wrapped plate into your moving box and wedge some scrunched up paper into the open spaces left in the box as a buffer so that when it moves, the plates stay neatly and safely in place. With drinking glasses or delicate cookware, fill up the space inside the drinkware by popping some crumpled paper into each one to safeguard against breaking. Then wrap the outside of the glassware for additional protection. Similar steps can be taken with any other delicate wares from your kitchen or dining area. It may be wise to label the boxes you pack with fragile items like these so that you can then avoid stacking any other boxes or items on top.
What about the rest of the house? Have your paper at the ready to help you create a similar buffer for your fragile lamps, knick-knacks, tchotchkes, vases, clocks, sculptures, and the like as you would for your kitchenware. Wrap them up, fill in any spaces in the packing boxes, and repeat so that what goes in the box comes out ready to display and enjoy once again.
What if I need help?
You've spent time and money finding just the right furnishings, items, and accessories to make where you live a home. Another good investment to get you to where you're going without the stress is hiring trusted and professional movers. Piece of Cake Moving & Storage has the experience you're looking for and appreciates the care that packing up and moving valuable items. If you're looking for full-service fragile item handling, check out our White Glove Premium Packing service to help you pack and unpack the sentimental or delicate items with care in one room of your home — or all of them. No matter your needs, we can make sure your items make it to your next location in good shape and put you that much closer to calling your new place "Home, Sweet Home."
---
Ready to make a move? Get in touch today for an obligation-free guaranteed flat price moving quote.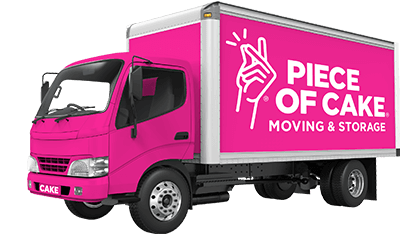 Just what you were looking for?
MAKE YOUR MOVE!