Taking the stress out of long distance moving
Embarking on a out of state move can be both exciting and overwhelming. To help you navigate this transition with ease, we've put together a 5-step guide with expert tips and insights. Moving to a new city or state doesn't have to be daunting – with the right planning and preparation, you can turn it into a smooth and enjoyable experience.
In the journey of a long-distance move, there are three distinct phases: the initial planning and research phase, followed by the packing phase, and finally, the execution of logistics to ensure a smooth transition to your new destination.
Here's we'll cover the checklist for the initial planning and organizing stage of your long-distance move.
Overview: Planning & Research Steps
Organized Inventory
Personalized Planning
Transparent Budgeting
Research Moving Options
Quality Packing Supplies
Planning Your Move
1. Organized Inventory:
One of the critical starting points for a successful long-distance move is creating an organized inventory of your furniture and belongings. Before the whirlwind of packing begins, take the time to assess your possessions. This comprehensive inventory serves as a decision-making tool, helping you determine which items to keep, sell, donate, or discard. This step not only influences the overall weight and volume of your move, potentially saving you money in transportation costs, but also plays a pivotal role in obtaining accurate moving quotes. As you reach out to moving companies for estimates, having a detailed inventory allows them to provide you with quotes that reflect the true scope of your move. Furthermore, this organized inventory serves as a valuable reference throughout the moving process, ensuring that no items get misplaced or overlooked in the shuffle. By taking control of your inventory, you're setting the stage for an organized, efficient, and cost-effective relocation that's tailored precisely to the possessions and furniture you want to keep.
2. Personalized Planning:
Every long-distance move is a unique journey that begins with personalized planning. This second step lays the foundation for a well-planned relocation. Take the time to assess your specific needs, budget, and timeline. This process involves understanding the intricacies of your move – the distance, the size of your household, and any specific requirements you might have.
For instance, imagine you're moving from a cozy apartment to a spacious house across state lines. Your personalized planning might involve considering the logistics of transporting larger furniture items and deciding which belongings you want to bring with you. Alternatively, you may be downsizing. By understanding your needs, you can tailor your moving plan accordingly to ensure every aspect of the transition is accounted for. If needed, research local storage facilities for temporary storage solutions. Ensure they offer secure and climate-controlled spaces for your belongings.
3. Transparent Budgeting:
Staying within your budget is an essential aspect of a successful long-distance move. Once you've gained clarity through and organized inventory and personalized planning, the next step is transparent budgeting. This involves researching and gathering estimates from moving companies to understand the cost implications of your move. However, transparent budgeting isn't just about financial considerations – it's about aligning your move with your preferences and resources.
For example, let's say you've decided to move from the bustling city to a quieter suburban area. Transparent budgeting would involve evaluating your financial capabilities alongside your desired level of convenience. You might choose to invest in professional packing and unpacking services to make the transition smoother, allowing you to enjoy settling into your new home. On the other hand, if you're more inclined to be budget-conscious, you might opt for a DIY approach, personally handling the packing and unpacking.
By transparently budgeting for your move, you're not only considering the financial aspect but also making decisions that resonate with your relocation goals, preferences, and timeline to get settled into your new home. This helps you strike the right balance between a stress-free transition facilitated and a more hands-on approach that allows you to actively engage in the moving process.
4. Research Moving Options:
When considering hiring a moving company for your long-distance move, it's crucial to thoroughly research your options. Look for companies with a proven track record in handling long-distance relocations. Check reviews and testimonials to ensure their reliability and professionalism. Choose a company that aligns with your specific needs, whether that's packing assistance, transportation, or storage solutions. Additionally, inquire about their experience with long-distance moves, as these require careful planning and coordination. Ensure that the moving company offers insurance options to provide added protection for your belongings during transit, offering you peace of mind throughout the journey.
*Pro tip: Evaluate your insurance options for moving. Some moving companies offer insurance, while others might recommend third-party providers for added protection.
5. Quality Packing Supplies:
Investing in high-quality packing materials is a wise decision that pays off in the long run. Sturdy boxes, bubble wrap, packing paper, and tape are all essential tools for safeguarding your belongings during transit. Boxes that are durable and properly sized prevent damage to your items, while bubble wrap and packing paper provide cushioning to protect delicate objects from bumps and jostles during the move. Quality packing supplies not only ensure the safety of your possessions but also provide peace of mind throughout the moving journey.
*Pro tip: When buying packing supplies for glassware and dishware, consider investing in specialized dish boxes with dividers designed to fit various sizes of glasses and dishes to ensure optimal protection and for the ease of packing up your kitchen items versus using bubble wrap or newspaper for each individual item.
As you plan your long-distance move, remember that careful planning and thoughtful preparation can significantly reduce stress. Take the time to create a detailed moving checklist and involve your family in the process. Whether you decide to hire a moving company or manage the move yourself, the key is to prioritize organization and preparation.
When you're ready to explore professional moving services, consider reaching out to Piece of Cake Moving & Storage for a free quote – we're your trusted and experienced long-distance movers. Our experienced team can offer tailored relocation solutions to make your long-distance transition smoother, including specialized services for valuable items, our comprehensive Platinum Packing Experience as well as reliable moving supplies.
No matter which route you choose, let us handle the complexities of your long-distance move, so you can keep your focus on the journey ahead as you begin this exciting new chapter in your life while we handle the logistics.
---
Ready to make a move? Get in touch today for an obligation-free guaranteed flat price moving quote.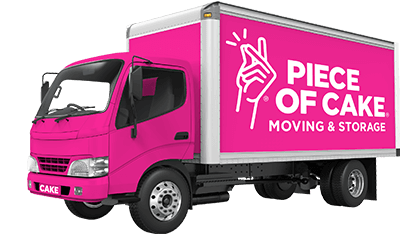 Just what you were looking for?
MAKE YOUR MOVE!