Self-storage vs Storage Pick-up Service
If you've been decluttering your home or need to put your belongings in storage for a particular period of time, you've no doubt done some research and have come across a number of storage solution options. And, each type of service will share the reasons why what they offer will meet your needs. However, it's good to get a sense of what you're really getting with some common storage options so you can make an informed decision — particularly between the do-it-yourself and "with a little help from the professionals" storage services.
Keep reading for a breakdown on these types of storage options, what parts of the storage process requires your involvement, and what is taken off your hands by the professionals.

The Self-storage Option
This may be an option that's ideal for people who need regular access to the items they are storing. It's also better if the total amount of items to be stored is small. The burden of managing the storage with this option is more on the side of the customer than the facility.
What is typically required of you:
Determining what size storage unit you need in advance
Making arrangements to secure a storage unit ahead of your move date (note: it's good to plan ahead; some facilities may have wait times due to increased demand for storage space)
Coordinating pick-up and delivery of your items to the unit, whether you use/rent your own vehicle or work with a moving company
Packing up and securing your belongings
Creating an inventory of your items
Loading and organizing storage unit yourself, or hiring movers to load it for you
Locking up (sometimes purchasing a lock) your unit
Purchasing insurance or confirm that you have coverage already
Paying and tipping any movers you hired to help with storage unit
What self-storage facilities often offer:
Storage units in different sizes
Access to your items whenever you need it (typically during their business hours, but some are accessible 24/7)
Insurance coverage (will vary; often at an additional cost)
Security features (will vary from facility to facility)
Packing supplies for sale
Climate-control (will vary; may be at an additional cost)
The Storage with Pick-up Service Option
Storing your belongings with a storage facility that has pick-up and drop-off service may be best if you aren't able or don't have time to use a self-storage option and you don't need to access your times regularly. This service does offer some convenience.
What is typically required of you:
Determining what items need to be stored
Packing up and securing your belongings
Hiring a moving & storage company who will to arrange for pick-up or drop-off of your items to and from their storage facility
What the pick-up warehouse storage service often offers:
Pick-up/delivery of items and storage into one process
Storage based on total volume of items
A secure warehouse location to store your items
An inventory of your items
Packing supplies and packing help if requested by the customer
Factors to keep in mind as you decide on a storage solution
You may ask yourself the following questions when determining which storage option may meet your needs and fits your storage budget:
How often do I need to access the items I'll have in storage?
How long do I need to store my items? Will I need to have some of my items back before others?
How much stuff would I like to keep in storage (total volume)?
Do I need to keep my items stored in a certain location?
What security features does the storage facility have to keep my belongings secure?
Do I need a facility that is climate-controlled to keep my belongings in good order?
What types of insurance are included in the storage service?
Can I move my items to and from storage myself or do I need assistance?
What is my budget for storage, including getting my items to and from the facility, any necessary fees or deposits, and monthly costs?
Determining your answers will help you create a checklist of amenities that will be best suited for your storage needs. Then you can do research into which facilities and types of storage services will have what you're looking for. It's always wise to get quotes from several facilities/services before making a decision.
There's a lot to research when it comes to choosing the right storage option. For those who want the fully-insured and expert touch when transporting and securely storing their belongings, Piece of Cake Moving and Storage can do it all. After working with us to estimate the total volume of your items, we'll arrange a date and time to pick up your items. If you'd like, our moving professionals can pack up your items to ensure that they are protected while in storage. After bringing them back to our secure storage warehouse, you can arrange to have your belongings delivered to you whenever and wherever you are in the country. You've done the hard work of sorting out what needs to be stored to get some peace of mind; let us make the rest of the process… a Piece of Cake.
---
Ready to make a move? Get in touch today for an obligation-free guaranteed flat price moving quote.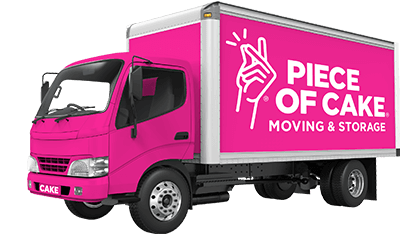 Just what you were looking for?
MAKE YOUR MOVE!