Reasons to use on-demand storage
No matter your reason for looking, searching for storage solutions will bring up plenty of options with a brief internet search. But, how do you determine whether on-demand storage is for you? First, you'll want to have an understanding of what is entailed with this storage option. You'll also likely want to know why other people may have decided to utilize this full-service option.
To those contemplating whether their own reason is reason enough for on-demand storage services, keep reading for more on both!
The short of it: On-demand storage
For those who aren't already acquainted with all that is involved in on-demand storage, this option typically involves less hands-on work for you. The on-demand storage company works with you to determine the storage space required based on the total volume of your items. Then, you arrange for your items to be picked up — there's no need to move them yourself! If you wish, many companies will even offer to pack your belongings (for an additional cost). Then, they'll take your items to their secure facility. There, they'll take inventory of your items and store them under clean, climate-controlled conditions. Whenever you need to access your items or are ready to take them back, just call to arrange for them to be delivered to your location. That's the abridged version of what this service entails.
Why on-demand storage might be the right option for you
If your interest is piqued by how convenient and flexible the service can be, then you might wonder why others have opted for this option. There are a number of reasons why people have found that on-demand storage has been just the right solution, including:
Storing seasonal items: Maybe you don't have enough storage space in your home to put away seasonal items (we're looking at you skis, snowshoes, and beach umbrellas) when you don't need them. In that case, on-demand storage will allow you to have them picked up when the seasons change and delivered just in time for your next session on the slopes or beach-side getaway.
Renovations: Doing some remodeling in your home? Has your landlord contacted you about some construction in your apartment? Limit damage to your things and get them out of the way by having an on-demand storage company swiftly stow away your stuff while the renovations are underway.
Decluttering your home: If knick-knacks keep getting knocked over at every turn in your living space, turning to on-demand storage services may be just the solution you're looking for to keep the clutter to a minimum. Not only will you breathe a sigh of relief with less stuff in your home, but you'll also breathe easier knowing that they're secure and kept in a climate-controlled space so that they come back to you in the same condition you left them.
Extended travel plans: Perhaps studying abroad for a semester or opting to work remotely on a remote island is in your future. If so, those going far and away for an extended period of time can spend more time planning their getaway and less time storing away their belongings with on-demand storage pick-up and delivery services.
Relocating on a short time table: While having time to plan and execute a move is desirable, not all have that luxury. When you've got to move from point A in a short time frame, it may be less of a hassle to worry about getting all your stuff to point B immediately. Working with an on-demand storage service can help you make informed decisions — and give you more time to make them — when it comes to what is really coming with you to your next location.
Though it's not an exhaustive list, these are just a few of the reasons folks like you may be considering the convenience, security, and flexibility that on-demand storage can offer. Working with the storage professionals at Piece of Cake Moving and Storage can deliver you the peace of mind that your belongings will be stored with care and without the hassle of having to manage your own storage unit. No matter your reason, we're ready 24/7 to take your call and offer cost-effective on-demand storage options that will meet your needs.
---
Ready to make a move? Get in touch today for an obligation-free guaranteed flat price moving quote.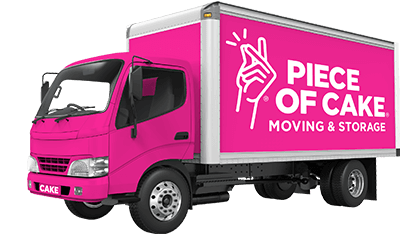 Just what you were looking for?
MAKE YOUR MOVE!