Safest Neighborhoods in Manhattan
There's lots of reasons to move to Manhattan and a number of factors to consider when choosing a neighborhood that's the right fit for you. Part of finding that fit is considering what your safety concerns are. Ideally, you're finding a spot that makes you feel at home and secure whether you're making a solo move or with loved ones. Taking some time to consider which areas will be both safe and meet your needs for close-by features will hopefully bring you closer to a successful neighborhood search.
To help you in your quest to find your next address in NYC, you may want to consider the Manhattan neighborhoods in the area that have the lowest crime rates as you go through your decision-making process.
What to factor in when considering a new neighborhood
In addition to safety as a priority, you may want to ask yourself a few questions to help tailor your search for a perfect spot in Manhattan:
What features are you hoping for in a neighborhood?

Would proximity to schools be ideal (if you're continuing your studies or have children)? What about having a corner store, grocery, or restaurants within walking distance from your home? Would you be okay if a laundromat is nearby if your building doesn't have laundry facilities? Are any of your ideal features negotiable or not as necessary for day-to-day living? Getting a handle on your must-haves and what you're willing to go without will be a key part of narrowing down the neighborhoods in your search.

What's your budgetary bottom line?

Manhattan does have a higher cost of living, particularly when it comes to housing. However, depending on where you'd like to be located and what features you'd like to have in your building or nearby, that cost can vary quite a bit between neighborhoods. Knowing what you can afford will further whittle away at the list of areas that'll meet your needs and hopefully leave you with some spending cash to enjoy this fantastic city as well.
Five of the Safest Neighborhoods in Manhattan
The following list of neighborhoods in the borough are in police precincts that currently report some of the lowest crime rates in this part of NYC. To get a better understanding of how they relate to other parts of the borough: the highest crime rate in Manhattan currently is in the Midtown South precinct, which serves the Times Square area, as well as Grand Central Terminal, Penn Station, and Madison Square Garden. You'll notice a trend among these neighborhoods: they're a bit further uptown and away from heavier tourist areas. That said, it doesn't mean there isn't much to see in the safer parts of the borough. For those who are prioritizing safety in their neighborhood search, these are the Manhattan neighborhoods you'll want to research further:
Morningside Heights
Murray Hill
Washington Heights
Upper East Side
Upper West Side
Morningside Heights
Crime rate:

12.9 crimes per 1,000 residents
This Upper Manhattan residential neighborhood is just north of Central Park on the east side of the borough. It's home to several institutes of higher education: Columbia University, Barnard College, and the Manhattan School of Music. So, if you're a new student or hopeful employee, this may be a great area to call home. Because of the nearby student population, you won't have to look far for some affordable cafes, bars, and restaurants (largely found on Broadway and Amsterdam Avenue). Some highlights of the area include the Hungarian Pastry Shop, with a great view of the garden attached to St. John the Divine Cathedral on Amsterdam Ave. Or, try a noodle bowl on the cheap at Junzi Kitchen on Broadway. On either side of the neighborhood, you'll find some great greenspaces. Riverside Park, along the Hudson River, has many great features including a dog run, playgrounds, running and biking paths, and a skate park. On the other side, set into a cliff-like hillside spot, you'll find Morningside Park with its many stairs, walking paths, waterfalls, and ponds surrounded by flowers and small turtles. For easy commuting around the borough, you'll have access to the 1 and A trains, and a number of buses (including an express bus to LaGuardia Airport if your travels take you outside of the city).
Murray Hill
Crime rate:

12.4 crimes per 1,000 residents
This Manhattan neighborhood is located on the east side of Midtown and south of Central Park. The area has a number of younger inhabitants with an active, but accessible nightlife scene (cheap drink specials and sports bars abound!). That said, it can be a bit of a sleepy, quiet neighborhood during the daylight hours. Housing prices can be reasonable for this part of the borough and options can range from brownstones to high-rise apartment buildings. For those that work in or frequent Midtown, it's an ideal spot to live to cut down on commute times. Access to other parts of the city are easily found through the 4,5,6, and 7 trains as well as buses. If you're looking to find a bite in the neighborhood though, there are casual dining spots to try out. More specifically, there are a number of Indian restaurants (in the East 20s) and Korean eateries (in the East 30s) in the area. One spot you may frequent for a vegetarian and dosa-laden meal is Chennai Garden by Tiffin Wallah. When you're looking for comfort food made easy, Handsome Rice's Korean-style lunchbox fare may be your new go-to.
Washington Heights
Crime rate:

13.4 crimes per 1,000 residents
Not too far south from the Bronx, this working-class Upper Manhattan neighborhood is generally an affordable one in terms of housing compared to farther downtown in the borough. There's a strong sense of community among the residents for those seeking out that vibe. Retail shopping beyond pharmacies and grocery stores isn't huge in these parts, but buses along with the 1 and A trains will make it easy to get to other shopping areas of the city. Just when you thought this neighborhood might be off the tourist map though, think again. The neighborhood is home to beautiful Fort Tryon Park, which boasts 8 miles of trails to explore, the largest dog run in the borough, lawns for picnicking, and Heather Garden, one of the largest public access gardens. But wait, there's more! As you make your way up into the park, you'll find The Met Cloisters, a medieval art museum nestled atop the park with fantastic views of the Hudson River. After a day at the museum and park, perhaps you'll be interested in a local cup of coffee at Buunni Coffee or a pint of one of the many beers on tap at Buddha Beer Bar.
Upper East Side
Crime rate:

9.5 crimes per 1,000 residents
This family-oriented and pricier residential neighborhood borders the length of Central Park to the eastern part of the borough. Moving here means you'll be neighbors with the city's mayor, who resides at Gracie Mansion. Nearby, you'll also have another great greenspace option (if you need a break from the big one to the east) in Carl Schurz Park along the East River. You'll also be within close proximity to some of the most world-renowned cultural institutions; the UES is home to the Museum Mile. Among them, you'll find The Metropolitan Museum of Art, the Solomon R. Guggenheim Museum, El Museo del Barrio, and Cooper Hewitt Smithsonian Design Museum. If after taking in all the art, culture, and history you find yourself famished, you may take a visit to the many great restaurants and cafes for every budget in the area (including Innocent Yesterday with its pages-long bakery menu!). Though there's many reasons to stick around the neighborhood, for those who need to commute elsewhere for work or play can access crosstown buses (that go through parts of Central Park) and the 4,5,6 and Q trains.
Upper West Side
Crime rate:

9.9 crimes per 1,000 residents
Along the western side of Central Park, you'll find one of Manhattan's largest neighborhoods. It's mostly residential, but with plenty of flavor to keep you finding gems right where you live. In addition to being a great place for young professionals to live, there are a number of schools in the area making it an ideal spot for families with school-aged children as well. Culturally speaking, there's plenty to see from live performances at the Lincoln Center to perusing the world's wonders at the American Museum of Natural History. There's plenty of retail shopping options throughout the neighborhood, including at Columbus Circle's Time Warner Center located at the southwestern part of Central Park. You also won't go without great dining options of all cuisines and price ranges in these parts. A few standouts are of the sweet variety, with Levain Bakery's heavenly cookies and Magnolia Bakery's famous banana pudding and cupcakes. Plus, with easy access to the other parts of the city through the 1, 2, 3 and A trains and many buses, you'll soon have an appreciation for the city as a whole!
Regardless of what neighborhood you make your own in Manhattan, partnering with Piece of Cake Moving and Storage for your next move is one of the best decisions you'll make. We are well-prepared to move New Yorkers (and soon-to-be NYers) to any and all parts of the borough as NYC moving experts. Our 5-star services paired with our flat fee formula will help you feel secure when working with us for your relocation.
---
Ready to make a move? Get in touch today for an obligation-free guaranteed flat price moving quote.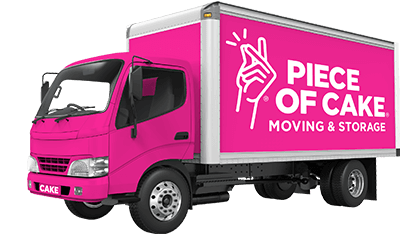 Just what you were looking for?
MAKE YOUR MOVE!