Living in California
Whether you're prepared to pick up valley girl or surfer slang, there's a definite vibe when it comes to living in Cali. If you're ready to pick up on what this state is putting down, you're not alone. Plenty of people relocate here to enjoy all that the coastal state has to offer.
The Golden State is incredibly diverse — from the demographics, landscapes, and cultural differences north to south. Before you find your spot in the sand (or mountain, or valley), there's a lot more to know about the pros and cons to help decide whether the West Coast is the best coast for your new home.
Quick State Stats
You'll be sharing over 163,000 square miles with 39.2 million other Californians. Demographically, the state is very diverse. According to the US Census, 71.9% of residents identify as white, 39.4% as Hispanic or Latinx, about 15% as Asian, and 6.5% as African American.
Politically speaking, California is generally regarded as a blue state. Residents generally skew to the left, leaning more moderate and liberal in terms of political affiliation. What's more, Californians have voted democratic for every presidential election since the year 2000.
There are a number of big cities in this big state (The top 5 most populated cities in the state are Los Angeles (3.9 million), San Diego (1.4 million), San Jose ( just over 1 million), San Francisco (873,965), and Fresno (542,107).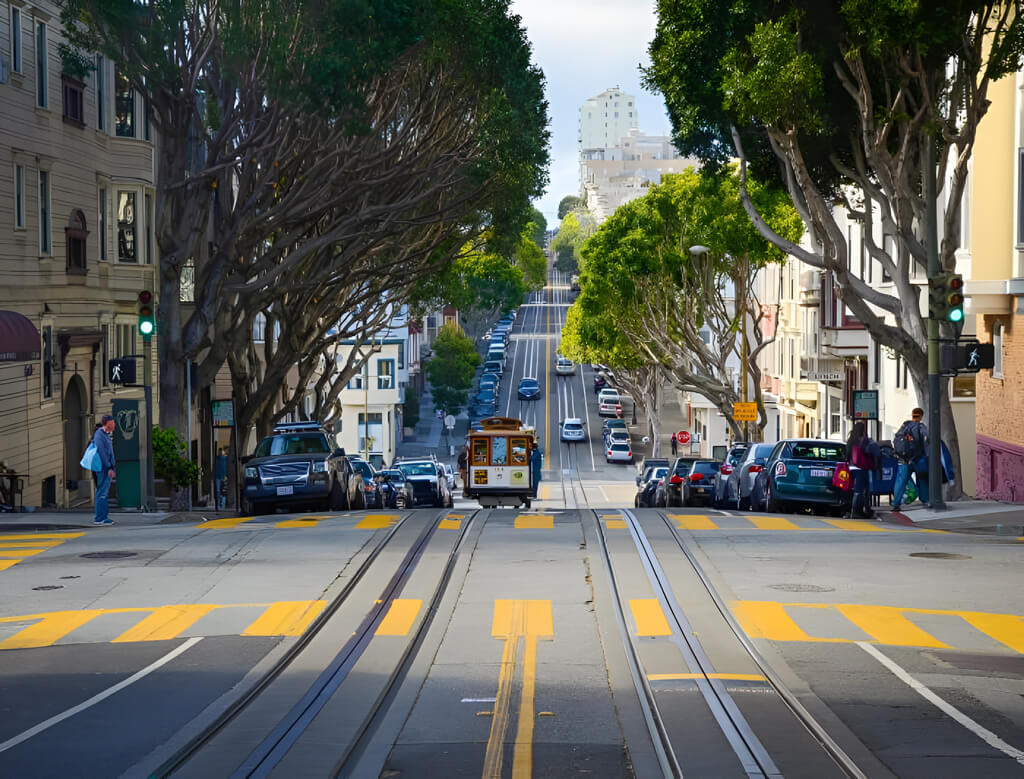 Pros of living in California
There's economic opportunity. The Governor's office boasts that the state has the 5th largest gross domestic product in the world. It also ranks #1 in access to venture capital funding, so if you've got a million dollar idea, this may be the place to get it funded. There's a number of big industries that flourish in the California sun beyond just TV & Film. There's also Aerospace & Defense, Agriculture, Biotech, Climate and Clean Energy, Manufacturing, Tourism, High Tech, and Wood Products that have flourished here.
Good weather is a year-round thing. You can be out there having fun in the warm California sun, because it's worth singing about. The seasons are a bit less subtle, mostly you've got a wet season and a dry season. The dryness of the climate lessens the feel of the heat in the summer months. And, the heat and precipitation vary a bit in different parts of the state. For example, LA has an average temperature in the mid-60 degrees Fahrenheit (F) and 14 inches of rainfall, but San Francisco in the northern part of the state averages around the mid-50s F and has a bit more rain at 20 inches on average.
Outdoor recreation abounds. With 840 miles of coastline, there's a lot of beach to choose from when finding a place to park your beach umbrella. For a unique experience, you can check out Pfieffer Beach in Big Sur where the sand is purple due to the manganese garnet run off from the nearby cliffs. If you're more into wearing hiking boots than sandals, Cali's got spots to accommodate those, too. Check out Muir Woods for a peek at the giant Redwood trees, Joshua Tree National Park where the Mojave and Colorado deserts meet, or the waterfalls of Yosemite National Park. There's definitely every flavor of the great outdoors in this state.
Public or Private, California has some excellent universities. With 23 campuses, the state is home to the largest public university system in the nation: California State University. The University of California system is another state system with campuses in LA and Berkeley, among others. There's a few elite, private universities as well. Stanford University is currently ranked #6 among the top private institutions in the country. Ranked at #27 nationally, University of Southern California is also a nationally recognized school. If you or your children are looking to deepen their academic studies, you'll find a lot of options available in CA.
Napa, Sonoma, and everywhere in between ranks among the best in wine. Though there are two world-renowned wine regions in the northern part of the state, there are many more vino regions to sample from and appreciate. Due to the great weather year round and a long grape growing season, there's exceptional wines of all varietals a-plenty in these parts.
California has bold goals for renewable energy and is making strides in reaching them. It was recently reported that though it was brief, California had reached 95% renewable energy usage. That's just a hop-skip-and-a-jump away from the state-wide goal of using 100% renewable energy sources by 2045. Currently, California converts more solar, geothermal, and biomass energy to electricity than any other state.
If you like your produce fresh, you'll be getting most of it straight from the source. California grows over half of all the nuts, fruits, and veggies in the United States and it ships that agricultural abundance to over 200 other countries worldwide. The state is home to 9 out of the 10 top producing counties in the country and has over 80,000 farms and ranches. Almonds, grapes, berries, walnuts, and lettuce are among the top edible commodities that come out of the Golden state.
Cons of living in California
You'll probably need a car. Whether you're tooling around your town or throughout the state, your trips may not be ones that can be done with public transit easily. For reference, if you're going to San Francisco, make sure to wear flowers in your hair and get ready to drive 380 miles if your destination is Los Angeles. And, in the bigger cities, traffic can be pretty congested.
The cost of living is high. The overall cost of living is quite a bit more than the national average. Beyond housing costs, which are the biggest influencing factor, groceries, transportation, and utilities are all higher than the average nationally.
State taxes may cost you more. The state sales tax is at 7.25%. It isn't the highest in the country, but it's not the lowest. Other local jurisdictions may also add onto that percentage with an added 0.10% to 1.00%. State Income tax ranges from 1% to 13.3% depending on your filing status and your income level. Though other states have a graduated-rate for income taxation, California is on the higher end. That said, the highest income tax rate kicks in when income reaches the $1 million mark or beyond.
You may be at a higher risk for some natural and man-made disasters. Depending on where you live in the state, it's possible to experience threats to safety such as mudslides, earthquakes, and wildfires. For example, Southern California has about 10,000 earthquakes yearly — that said, there are plenty that are so minor you won't be able to feel them. However, aftershocks of earthquakes may be felt for months afterwards for some of these ground-shaking experiences. Due to the dry Mediterranean climate, California is also at higher risk for wildfires. The risk varies by location, but the State Fire Marshall has a map of the fire risks in the state. Mudslides may occur without warning after significant rainfall, pushing mud, rocks, and bushes down a slope that can cause damage to property and injury to people.
There is an affordable housing shortage. The state has a lack of affordable housing options for those who hope to rent. Some report spending more than half of their take-home pay on housing. In terms of purchasing a home, the median home price in the state has surpassed $800,000, which is much higher than the national average.
The status of public schools in the state is worth researching. If your move includes relocating your school-aged children, knowing more about the California public school system is wise. In a recent ranking, Wallethub placed California Public Schools at 41 out of 50 states and Washington D.C.. Among factors that were investigated, California had a higher teacher to student ratio (more students per teacher) and among the highest percentage of high school students reporting threats and injuries.
Ready to take your California Dreamin' to reality?
Once you've considered the pros and cons of your move, make your next decision to work with Piece of Cake Moving and Storage. We can help you at every step of the way — from assessing your needs to unboxing your belongings at your new California address. From packing supplies, full packing or unpacking services, furniture assembly, storage options, and more, we can ensure that your moving experience to the West coast will be "good vibes only."
---
Ready to make a move? Get in touch today for an obligation-free guaranteed flat price moving quote.