How to move out of your parents' house
You hear a bittersweet symphony on the radio: loud rings the bell declaring your independence and the sweet melody tells the tale of the many beautiful memories you'll carry with you. It's the soundtrack to the next stage of your life.
Before boxing up your books and well-worn sneakers, take a step back to assess your readiness to break free, how to break it to your fam, and moving logistics. When you're ready, Piece of Cake Moving & Storage will be there to lend a hand (or a few) for your move.
To get started…
Consider your reasons for moving
If you already know your "why" for relocating — great! If your reasons are unexplored however, digging into it a bit will help you in your next steps of planning.
So, set your packing tape aside and ask yourself:
Is the way I navigate conflict with my parents (or how they handle it) a reason for my departure?
How about your bae: Are you moved to cohabitate with your significant other or pal(s)?
Do you feel like you need a change of scenery to claim your independence?
Are you ready to pursue a solo adventure, like a new J-O-B or going to college?
There may be other reasons as well, so take your time to think it through. Some will be expected, such as going to college or getting a new paid gig that's out of town.
Others may need a bit of finessing as you figure out how to tell your parents, depending on what you know about how they handle change and the details of your desire to move.
Create a preliminary budget
Now that you know why you're moving out, the next big question is: how much money do you need? Of course, the answer will depend on various factors.
Do you have savings or a steady income that you can use? Do you want or need to save up more? Do your parents provide financial support in some ways? Have they told you previously or do you believe they can contribute to your move?
Getting some answers will help you know how much bank you are starting with and what you need to cover. In any case, the final moving cost will depend on how far you are going, how much you take with you, and whether you hire professional movers to get the job done.
As you decide on where you'll be moving, you'll also want to figure out how you'll cover things like rent, a security deposit, utilities, insurance, food, transportation, and/or any spending cash.
Having a job, bunking with roommates, or getting scholarship funds for living expenses while at college can all help. Determining these details will position you to be able to afford that independent lifestyle.
Tell your family that you are moving out
You've taken time to think about why you're moving out, considered what you need to make it happen, and (maybe) found a perfect pad. Now, it's time to chat with your family.
Consider how they might take the news: Will they be surprised? Or, will the reason you're packing your bags be expected? What sort of questions might they ask about your readiness to leave or moving plan?
Take what you know about how your parents handle this type of news and let that inform your communication strategy. You might even write out what you'd like to say to prepare. And, location matters — think about where you can have the discussion that reduces distractions so that you can have each other's full attention.
Decide on a move-out plan
Your parents may have questions on this front, and it's not a bad idea to be ready with answers. Even if your preliminary move-out plan is not picture-perfect, having a backup plan proves that you are responsible and mature enough to start living independently.
You might also need to do some negotiating with your family: Can you take your bed? What about grandma's old couch? Taking stock of the items you don't already have, what your parents may be able to help you with, and what funds or resources you can use to obtain the rest is likely the next step in this process.
Then of course, there's the matter of moving it all. Will you be hiring a truck or do you have access to a vehicle to move your stuff? Perhaps you have some friends (or maybe your parents) that can assist you for the small price of pizza and some beverages.
Alas, even the best of pals may not be able to help sometimes or don't think they can wedge grandma's old couch up the stairs at your new place. If you find yourself in this spot or know your items need special care in transit, working with a professional moving company may be your best bet.
Stress less and let us help with your move
For a move that leaves you with more time for proper goodbyes, Piece of Cake Moving & Storage is here for you! Contact us today to discuss help with packing up your childhood favorites and living essentials, moving you to your next stage in life, and storing anything that doesn't immediately support your new found independence — so you can unpack what possibilities are in store for you now.
---
Ready to make a move? Get in touch today for an obligation-free guaranteed flat price moving quote.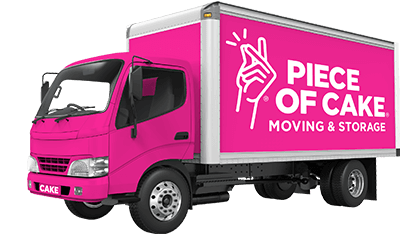 Just what you were looking for?
MAKE YOUR MOVE!