How to Move a Hot Tub
Soothing and satisfying to soak in, hot tubs are a relaxing pastime loved by many. On the other hand, moving a hot tub into a new home? It's anything but relaxing. Not only are hot tubs shaped awkwardly, but they are heavy, too, making them a challenging move.
With some prior prep work, moving a hot tub is less stressful than you may imagine.
Pros and Cons of Moving a Hot Tub Yourself
Moving a hot tub yourself, of course, means saving money on hiring movers. For those on a strict budget, then cutting costs makes the DIY approach an appealing option. Others may be dealing with a tight moving deadline, preventing them from hiring a team. Regardless, there are still drawbacks to moving a hot tub by yourself.
Without water, many hot tubs can weigh 500 pounds; if filled up, tack on several hundred pounds to the number, some weighing up to a whopping 1000. Moreover, hot tubs are notorious for having a cumbersome shape. Because of their awkward bulk, figuring out the route to the truck rental is challenging.
Hiring a Team
While it isn't impossible to move a hot tub by yourself, it is still a strenuous task and may not be worth the extra stress of an already hectic move. Hiring hot tub movers lifts this burden off your shoulders onto theirs, allowing you to dedicate time and energy to what may be more pressing matters regarding your move.
Equipment Rental
A cursory search of "hot tub movers" will likely lead you down a rabbit of hundreds of options in your area. If you're opting to move the hot tub yourself, be sure you have the correct tools in your tool belt. The easiest way to move a hot tub is by utilizing dedicated spa moving equipment. Whether you're hiring a team of professionals or making do with your closest friends, either option requires a hot tub dolly. Heavy objects require careful maneuvering, and a hot tub dolly makes it possible to roll this heavy item onto a moving truck and into your new home without injury.
Hardware stores and moving companies alike offer hot tub moving equipment rentals. Reach out to them and see what options are available.
Preparing and Moving the Hot Tub
Drain the Jacuzzi
At least a full 24 hours before the move, you will want to drain the hot tub of its water. To do this, begin by unplugging it, keeping the cord far away from the plug if it detaches. You will also need to disconnect any plumbing that may be attached. Next, you will have to locate the hot tub's drain valve, unscrew its cover, and attach a garden hose to one end of it. Switch the valve on and let the hose suck the water out of the spa. After draining the hot tub, dry any remaining water with a cloth or towel.
Come the day of the move, double-check that the hot tub cover is already off––you don't want to deal with that extra weight!
Carrying the Hot Tub onto Your Transportation
As mentioned earlier, hot tubs are very heavy even without containing water, so do not attempt to move one on your own. Recruit enough people strong enough to carry one side of each of the spa. At the very least, there should be three others besides yourself. Everyone involved should wear slip-resistant shoes and take other precautions to avoid accidents.
Before any actual moving, slide sheets of plywood beneath the hot tub. Doing so creates a smooth surface to roll the spa onto the hot tub dolly.
When your crew is ready, carefully lift the hot tub high enough so the dolly can roll underneath and cart it to the truck. Tie down any moving straps to keep it from wobbling off, and then guide it to your moving truck.
Once your hot tub is in the truck, strap it down there to prevent any shifting during the actual move. Check that the hot tub dolly is still carrying the spa as well––you will thank yourself later when you have to unload it!
Unloading and Reconnecting the Hot Tub
After arriving at your new place, remove the straps holding your hot tub. With your same crew of movers, guide the hot tub off from the truck to its new location. To ensure smooth sailing, plan your moving route to prevent any complications from arising. Take your time, prioritizing safety above all else.
Remember the plywood sheets from earlier? Lay those down where you want to place the hot tub. This will give you an elevated surface when transporting the spa from the hot tub. Working out from the corners, move the hot tub off the dolly and onto the plywood. When you're pleased with the placement, pull the plywood out from beneath the hot tub.
Time to settle your hot tub into its new home: clean it out once more, connect the plumbing, plug it in, refill it, and most importantly, enjoy a well-deserved soak!
Reviewing these considerations ahead of time can really inform your DIY-or-not decision. Moving a hot tub is no small feat and there's no shame in admitting that there's too many details to manage or that it may not be safe for you to attempt it. In either case, hiring experienced moving professionals, such as Piece of Cake Moving and Storage, can help you relocate your hot tub in one easy step on your part (making the call!). We handle all sorts of big and small moves that require special attention and equipment, including moving a hot tub. Work with us and you'll feel secure in knowing that leaving this big (and heavy) job of moving your hot tub will be done safely and with much less stress.
---
Ready to make a move? Get in touch today for an obligation-free guaranteed flat price moving quote.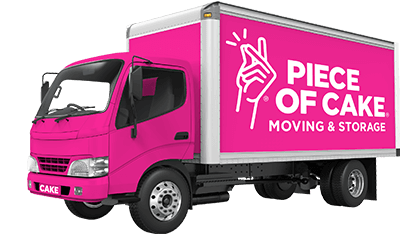 Just what you were looking for?
MAKE YOUR MOVE!