How to furnish your apartment for less than $1000
Everyone's looking for a deal, but sometimes a deal on home furnishing is essential. If your current budget doesn't match your interior decorating aesthetic, it can be wise to start with the basics for building a nest initially and then bring in other items over time.
As professional movers, Piece of Cake has helped hundreds of customers relocate and move to their new homes — so we know a little something about filling a space up with what you need day-to-day.
Even with a budget of no more than $1k, you may be surprised with what you can secure for your abode. With sources like online markets, secondhand stores, and big box retailers, you can get some key items without paying a lot.
Key Items for Furnishing Your Apartment
Based on our experience, the following is a list of basic items you'll likely need when moving to your new home. That said, you'll want to assess the actual physical space you'll be living in to determine what your space can support or what is needed.
For the kitchen:
Even the amateur cook needs a few essentials to get them started in a new place. Those items might include:
For cooking, baking, and (let's be honest) reheating: a few pots and pans, an oven-safe dish, a small set of cutting knives and cutting board, measuring cups and spoons, and an oven mitt
For serving and eating: 1-2 plates and bowls, 1-2 cutlery sets — forks, knives, spoons
For drinking: 2-4 drinking glasses and at least one mug
For keeping things in order: Dishtowels, a drying rack, and a trash bin
A way to prepare coffee (if coffee is a must): A coffee machine will run you some coins. A French press or a simple pour-over dripper that fits over a mug are less expensive coffee-preparation options.
For the future: Hold off on getting small appliances like mixers or crockpots until you get a feel for your kitchen space. These could be great investments later on.
In the bedroom:
You could go in a few directions as you furnish your sleep space and the cost will vary. Many would argue it's worth investing a bit of cash into a mattress, so if you're able to that could be great. If that must wait, there are options that could also be good interim options that could also work for folks moving into smaller spaces like a studio apartment.
For sleeping: a mattress, box spring, bed frame, air mattress, or futon (which could double as a couch)
For making your sleep space comfortable: pillows, blankets, duvet, or comforter, and sheets
Clothing storage: a set of drawers or shelves and a clothing hamper for the "ready for the laundry" items
For the future: A bedside table or nightstand, curtains, knick-knacks, rugs, and artwork. After living in your space for a bit, you'll know what will feel right and taking your time to pick out these items will make your space feel homier.
For the living room:
No matter the type of space you have, there are likely components of what often comprises a living room for watching your favorite shows, reading, and having friends over that you'll want in your space. You may consider:
For sitting and relaxing: a sofa, couch, and/or comfy chair(s)
For storage or display: a coffee table or bench
For eating, working, and entertaining: a small table and chair(s). It could double as a desk if needed!
For extra lighting: Floor lamps could be a good option
What to consider for the future: You could save up for items like a TV, art, plants, curtains, foot stools, and rugs.
In the Bathroom:
You'll want to make sure you have some items that compliment your toiletries, including:
For drying off: a few sets of bath and hand towels
For keeping the floor dry: a shower curtain, rings, and a bathroom rug
For the toilet: a plunger, toilet brush, and toilet paper
For waste: a trash bin
For the future: an over-the-toilet shelving or storage organization or matching soap dispenser and toothbrush holder could really pull the room together later on.
For keeping all your rooms tidy and clean:
If you're going to invest in some items for your home, you'll want to make sure they stay in tip-top shape. Having these cleaning supplies on hand will help you get the job done:
Dish soap and/or dishwashing machine soap
A broom and dustpan
Garbage bags that fit your bins
Rags and/or paper towels
Sponges
Cleaners for various parts and components of your home: Bathroom cleaner, glass and/or wood cleaner, and multi-purpose cleaner
Laundry detergent
Hand soap
Bucket and mop
Small vacuum cleaner
For the future: upgrading your vacuum cleaner or other specialty cleaning items after you know what kind of surfaces and spaces you have to take care of.
Where can you shop for home furnishings on the cheap (or get them for free?!)?
Now that you've got a list, it's time to go shopping. There are a number of ways you may be able to find sustainable and/or inexpensive items for your home. Though it's not an exhaustive list of your options, you may consider the following as you search for what you need on your list:
Buy Nothing Project
buynothingproject.org
Operating from a stance of abundance, this project helps bring neighbors together in a community to gift items they no longer need or want to their neighbors who may need or want them.
No money is exchanged for items and there is no bartering or trades. Further, if you're in search of (ISO) of an item, you can post on your neighborhood's Buy Nothing Group and you may be able to connect with someone who has one to give may be able to connect you with what you need! This option may require a bit of patience — you may have to monitor your group's postings to catch some needed items.
You'll also likely need to consider how you'll transport items. You can be green (sustainable) and stay in the green (cash money) with a little help from your neighbors! However, if you need to hire professional movers, we can help you with that, even if it is just a single item move.
Freecycle.org
freecycle.org
Similar to the Buy Nothing Project philosophy and structure, these communities are often location or neighborhood based throughout the US. After becoming a member (also free), community members will list items they have available to give at no cost and folks looking for items can post in a request for anyone who is willing to give the desired item to do so. A plan for transporting the items is also a necessary consideration here.
Facebook Marketplace & Craigslist
facebook.com/marketplace/
craigslist.org
These sites will offer a range of options from free items to garage sale prices for nearly new/new items listed. These are person-to-person sales and often are negotiated through messages beforehand.
You may be able to find some serious discounts on lightly used furniture and housewares, some of which may also be listed for free.
Secondhand/Thrift Stores
These are also green options for low-cost furnishings and other things for your home. You'll likely find an array of items on your list, from kitchenware to items for your living room set up.
Turnover of what's available in these stores will change frequently and of course, is based off of donations.
You could make the rounds to check out your local vintage shops for some funky one-of-a-kind items, your neighborhood Goodwill store, or a ReStore, run by Habitat for Humanity, for secondhand appliances, building materials, and furniture. Many secondhand items can be cleaned before use and, if you take care of them properly, will last for many years to come.
Big box Stores (Target; IKEA; Bed, Bath & Beyond, etc.)
Many of these stores will have a variety of typical household items in various price ranges. You may spend some time pricing out items online first if you go this route, but it's also possible that the good deals on what you want will be in-store only.
These retailers may also be able to assist you with delivery arrangements, possibly at an additional fee (which may mean you don't have to strap it to the roof of your car or shove it into a taxi).
Hopefully, this information helps you get started on furnishing your apartment for your budget.
Once you round up the items you need for your move, you can get in touch with our experienced team at Piece of Cake Moving and Storage for professional moving services. We offer full-service expert moving support, including packing, unpacking, and storage options for all your needs.
Except NYC, we also provide our services in Miami, where we opened our new office in 2021.
---
Ready to make a move? Get in touch today for an obligation-free guaranteed flat price moving quote.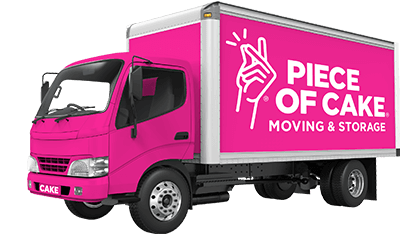 Just what you were looking for?
MAKE YOUR MOVE!